Mickey Rourke Says His Rugby Movie Shoots In February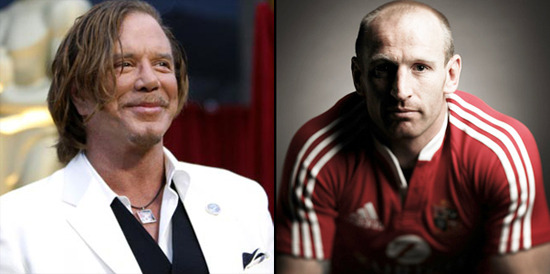 Briefly: Some actors can always be relied upon for brutal honesty. (Except when they can't.) Take Mickey Rourke. One of the most entertaining interviews making the rounds today is a Vulture piece in which the actor calls out some of his recent work. (Passion Play? "Terrible. Another terrible movie." How about 13, with Curtis '50 Cent' Jackson? "It's so bad it can't get out.") He also seems to call into question the unvarnished truth of his previous comments when he called Megan Fox "the most talented actress I've worked with."
But that's just the fun stuff. Buried in there is also his statement that his biopic of famed rugby player Gareth Thomas will shoot this coming February. We've heard about this project a couple times over the past six months, and it still seems like something that is destined never to happen. The actor is 22 years older than his subject, after all. That distance can be minimized in some contexts, but not as easily when he's got to be convincing on the very demanding rugby pitch. (He may just be playing a character heavily inspired by Gareth Thomas, however.) Mr. Rourke has said that he'll learn the player's native Welsh for the role, and it sounds like a project to watch. Hopefully eighteen months from now he won't be casually dismissing it in an offhand interview.