Mark Verheiden Co-Writing, Exec Producing 'The Dark Tower'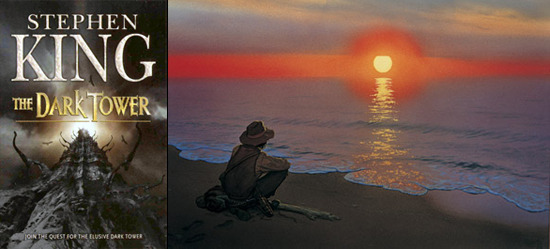 Mark Verheiden is a name that has been known in geek circles for years. I first ran across his stuff when he was scripting comics like the Aliens series for Dark Horse over twenty years ago. Since then he has become a steady scriptwriter for television, with many episodes of Battlestar Galacitca, Smallville and Heroes under his belt, among others. He's a co-exec producer on the upcoming Falling Skies, and now he's been tapped to work with Akiva Goldsman as co-writer and exec producer on The Dark Tower. Deadline reports the news, but doesn't have a lot more info. For those who have been less than enthused about the idea of Ron Howard and Akiva Goldsman being the point men on The Dark Tower, however, having a Battlestar Galactica vet on board might provide some solace. But he wasn't the writer on some of the best Galactica episodes, and then there is Heroes.
So, for me, this adaptation of The Dark Tower continues to stand as a gigantic question mark. It is a mammoth undertaking that will cross film and TV boundaries in ways that have almost never been attempted, and while Ron Howard and Akiva Goldsman have had great success doing a certain sort of film, I'm not convinced they're the guys to make The Dark Tower work. Javier Bardem is a much stronger actor than I ever expected they'd sign to play the Gunslinger, however, so that is a huge check mark in the 'plus' column.
What are your thoughts about this project, given the details we know? Does it seem like something that has a fighting chance, or is it more ambition than anything else?