'Monte Carlo' Trailer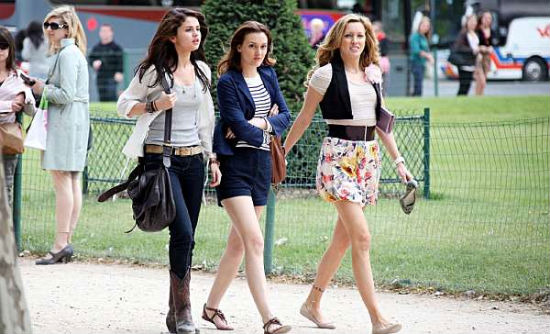 It goes without saying that Transformers: Dark of the Moon will win the box office over the fourth of July weekend. But, being as the audience for that film is primarily young men, Hollywood is wisely counter-programming. For adults, they've got Tom Hanks and Julia Roberts in Larry Crowne and for young girls, there's Monte Carlo.
Monte Carlo stars Disney teen-sensation Selena Gomez, Leighton Meester and Katie Cassidy (the last two both from Gossip Girl) as three American friends who go to Paris only to have Gomez mistaken for a wealthy British party girl. Their penny-pinching vacation then becomes a first class whirlwind trip through Europe complete with shopping sprees, boys, and all those other things that appear in every other Disney Channel movie like this. But Monte Carlo isn't a Disney Channel movie. It is directed by Thomas Bezucha (The Family Stone), produced by Nicole Kidman and scored by Michael Giacchino. Check out the trailer for the July 1 release after the break.
The trailer seems to have originated over on MySpace, but we've got an embed below.
Obviously I'm not the demographic for Monte Carlo but doesn't it look like about a million other movies we've seen before? The trip to Europe has been done, the mistaken identity thing has been done and they've even been combined before. It all just seems too easy. If you showed me this trailer and said it was going to air on ABC Family this weekend, I wouldn't blink an eye.
So, all of that said, I'm wondering what Monte Carlo has – if anything – that those movie don't. Why is this movie opening on July 1 weekend on thousands of screens? Obviously Selena Gomez is a big up and coming star and this is her first big budget, big screen starring role (she was also in Ramona and Beezus, but that was a much smaller film) but other than that, I'm really perplexed by this movie.
Here's the plot description:
Three young girls (Katie Cassidy , Selena Gomez, Leighton Meester) use their savings for a dream trip to Paris, which turns out to be a big disaster. When they decide to take a break from their lousy tour and sneak into the lobby of a 5-star hotel, one of the girls is mistaken for a spoiled British heiress. Before they get the chance to reveal their true identities, the girls are wrapped up in a whirlwind of paparazzi, couture gowns, storybook romances, and living the glamorous life in Monte Carlo.
What are your thought on this one? Do you know someone who is going to want to see this?