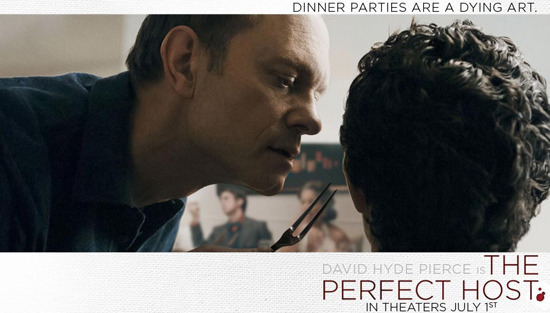 Did you see The Ref and think that it really needed a little more American Psycho? Then The Perfect Host might be for you. It tells the story of bad guy robber Nathaniel Parker, who tries to take refuge in the home of David Hyde Pierce after a crime goes bad. But it turns out that Mr. Pierce is a lot less normal than he looks, and things get a little crazy. There is a trailer that hints at just how crazy the movie gets — and in some cases how wacky, like Beetlejuice calypso dance scene wacky. Check it out after the break.
The basic idea here is actually pretty appealing; I can't be the only one who likes the idea of being able to turn the tables on some criminal who tries to turn your home into a hideout. But the execution is something else, and for me it's all in the shot of a grinning, crazy David Hyde Pierce. He looks so self-consciously crazy that he loses me. Maybe that's the point, and there's more to the movie than all the weirdness seen here. But I'm not convinced just yet.
Want to see David Hyde Pierce being all threatening and crazy in HD? Head to Apple.
Warwick Wilson is the consummate host. He carefully prepares for a dinner party, the table impeccably set and the duck perfectly timed for 8:30 p.m. John Taylor is a career criminal. He's just robbed a bank and needs to get off the streets. He finds himself on Warwick's doorstep posing as a friend of a friend, new to Los Angeles, who's been mugged and lost his luggage. As the wine flows and the evening progresses, we become deeply intertwined in the lives of these two men and discover just how deceiving appearances can be. With outstanding performances by David Hyde Pierce and Clayne Crawford, cowriter/director Nick Tomnay takes us on a suspense-filled ride where nothing is as it seems. THE PERFECT HOST is a slippery psychological thriller that exposes true human nature and reveals just how far we're willing to go to satisfy our needs.