James Cameron's 'Avatar' Sequels Will Film In Manhattan Beach, CA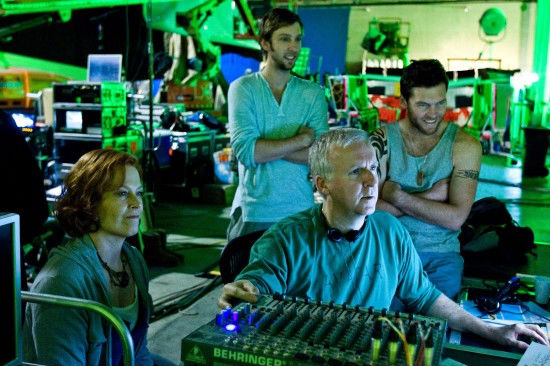 The above headline is true. Avatar 2 and 3, written and directed by James Cameron and scheduled for release in December 2014 and 2015 respectively, will film in Manhattan Beach, CA. But let's clarify that Manhattan Beach is a town. And while that town has a beach, it's not just a beach. James Cameron is not shooting underwater sequences for the sequels to his multi-billion dollar film on the beach. In fact, he has simply signed a lease for a 580,000-square-foot studio and office facility, complete with 15 sound stages, at the MBS Media Campus in the California beach community that will not only house the production of both upcoming films, but is likely to become the new home of Lightstorm Entertainment.
So why are we reporting on a real estate deal? Well, apparently the studio where Cameron shot the first film is currently under renovations and, without a new home, the sequels were in danger of possibly being delayed. Now, that won't be the case. Read more after the break.
The Hollywood Reporter exclusively reported on the deal, which will see Lightstorm move about 12 miles down US-1 from Santa Monica to Manhattan Beach. But while Cameron, who lives in Malibu, had his office space in Santa Monica, most of the original Avatar filmed about 5 miles south in Playa Vista, CA. So the entire production had its offices in one place and production in another. By leasing this new property, Cameron can get everyone at Lightstorm under the same roof. Plus, with the Playa Vista location undergoing renovations, Cameron now doesn't have to worry about other people's timetables.
Lightstorm also won't be the only tenant at the MBS Media Campus in Manhattan Beach to make big blockbuster movies. Marvel Studios is currently a tenant and shot much of Iron Man 2 and Thor in the same location.
Last we heard, Cameron was still writing the scripts to his sequels – and talking about the future of cinema – but when you are the "head MFer in charge," as he sometimes calls himself, you have to make sure you have office space too – and a lot of it at that. You are making two sequels to the highest grossing film of all time, after all.