Tom Cruise's 'Tropic Thunder' Spin-Off Is Scripted, But Does He Need This Movie Any Longer?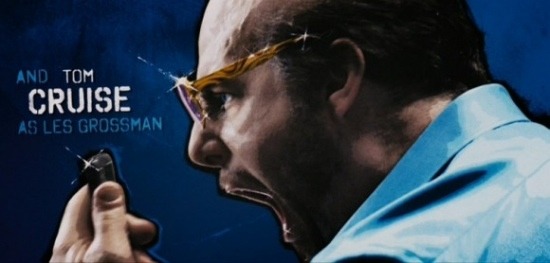 What will Tom Cruise do next? He's finishing the fourth Mission: Impossible film now, and will soon shoot a part in Rock of Ages, so it'll soon be time to settle on another project. There was a good chance that he would have been in Guillermo del Toro's film At the Mountains of Madness, but that one is now off the boards. There is word that he is interested in Joseph Kosinski's film Oblivion that was recently cut loose by Disney and is looking for a new studio home, but that one has a few more steps to take before it can be a reality.
One possible film is the Les Grossman Tropic Thunder spin-off. That one now has a completed script, says comedian Bill Hader.
Speaking to MTV, Mr. Hader explained that his friend Michael Bacall, who also co-wrote Scott Pilgrim vs the World, has finished a script. Bill Hader's comments about the script aren't anything revelatory — they're the sort of stuff you'd expect to hear someone saying about a friend's as-yet unreleased work. But the fact that the script is done, turned in and possibly moving forward could be of note.
Because the Les Grossman film came up as a rumor in 2008 when Tom Cruise's career was at an all-time low. His appearance in Tropic Thunder was one of the first steps towards appeasing an audience that had been turned off by his Scientology videos and Oprah appearance. At the time, a Les Grossman movie seemed like something he needed. His in-character appearance at the MTV Movie Awards led Paramount to official say that a Less Grossman movie was in the works as of mid-2009, but we haven't heard much since.
Now, more than two and a half years after Tropic Thunder opened, Tom Cruise doesn't need the Les Grossman movie in the same way. Knight and Day wasn't a staggering success, but it did what it needed to do, and with Brad Bird and Jeremy Renner as co-conspirators in the fourth Mission: Impossible movie, that picture might be all Tom Cruise really needs.
The appeal of the Les Grossman movie is that it could be cheap and quick to shoot, and it might be something that audiences would respond well to. If the script is good, there isn't a huge amount of risk. But Tom Cruise's basic mode is to do much bigger movies. Taking a part in Rock of Ages does suggest that he's open to switching up that mode a little bit; that movie could end up being a barometer for whether audiences seem to want more all-out comedic Tom Cruise. If it scores, the Les Grossman movie might become a much more active project.