Michael Fassbender Speaks About Shooting 'Prometheus'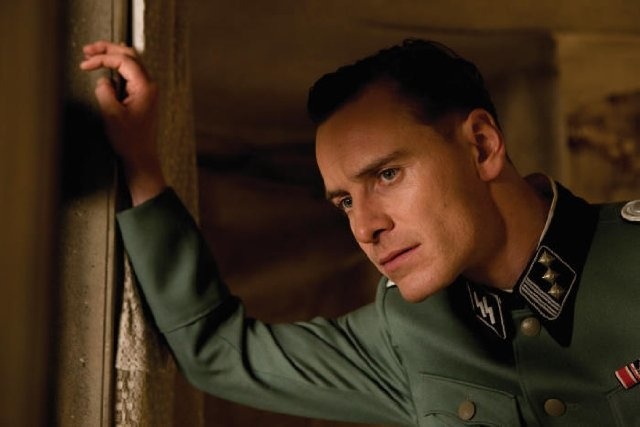 "Breathtaking." That's how Michael Fassbender describes what it feels like to walk onto the set of Ridley Scott's Prometheus, which is currently three weeks into shooting. The Inglourious Basterds and X-Men: First Class star is set to appear along side Noomi Rapace, Charlize Theron, Idris Elba and many others in the Damon Lindelof-scripted film that's tangentially connected to the Alien universe Scott helped created in 1979. After the jump, read about how Fassbender is approaching his character, what it's like to work with Ridley Scott and more. Prometheus is set for release June 8, 2012.
Fassbender was speaking to the Los Angeles Times when he said the following:
I walk on the set and I feel like I'm walking on a spaceship. It's breathtaking. All the various panels and screens and it's just dealing with a top-notch art department and carpenters and the riggers and everything that goes into putting that together. It's just, well, breathtaking, all of it.
Before shooting began, Fassbender was more than willing to talk about the film and his character, saying that the film "absolutely" had to do with the original films. "There's a definite connecting vein. You realize you're part of something else, but it's definitely in keeping with the old ones," he said. Now that the film is shooting though, he much more tight-lipped, not even discussing character specifics (he's playing an android in the mold of Ash and Bishop from the first two films) but did talk about his approach to the role:
I feel I've got it at my fingertips, it's there but challenging and, you know, I'm excited. I've got a few ideas that I'm running with and I think I've got a grasp on it but it's always something that, organically, moving on its own course. I'm having a lot of fun with it. There's a lot of interesting quirks and niches to him and I'm having a lot of fun exploring it.
According to the LA Times article, Fassbender's favorite movie of all time is Blade Runner, so the fact that he's working with Ridley Scott has been a dream come true:
It's great. He's just so precise and fun and mischievous and just full of interesting and quirky ideas for the character. They come to you in passing but then he lets you run with it and there's a lot of freedom there. I'm really just enjoying it and everything in general, the whole crew is so veteran and talented from all departments down, the camera, wardrobe, makeup, props, the works — you've got the cream of the crop and it's an honor just to be allowed to be part of it.
With a highly anticipated film like Prometheus, it's fun to hear any little thing but can you take quotes from actors or directors seriously before a movie comes out? No one would ever bad mouth a movie before it was released or, in the case of Fassbender, when he's just starting production.