'The Woman In Black' Teaser Trailer: Daniel Radcliffe Leaves Hogwarts, Finds New Ghost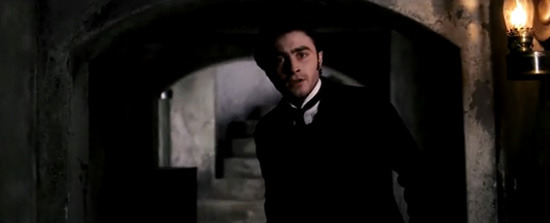 We may receive a commission on purchases made from links.
The first big post-Harry Potter role for Daniel Radcliffe is in the thriller The Woman in Black, which is a period-set tale about a young lawyer who encounters a ghost when hired to sort out an estate's papers. The movie is also part of the return of the once-great Hammer Films label. A teaser for The Woman in Black has been released, and though there really isn't much to it — shadows and the implication of some scares — you can check it out below.
James Watkins (Eden Lake; The Descent: Part 2 screenwriters) directs, with a script by Jane Goldman (Stardust, Kick-Ass, X-Men: First Class) based on the novel by Susan Hill. The novel is very well-regarded as a now-classic ghost story, despite only having been published in 1983. Seeing Daniel Radcliffe's first major film role after Harry Potter is probably reason enough to check out the film, but the novel's power is the real draw.IGN has a slightly higher-resolution version of the teaser. The Woman in Black has an October 28 release date set in the UK, but no US date at this point.
Here's Amazon's description of the book:
Arthur Kipps is a man touched by tragedy as we learn following his storming away in a temper from Victorian festivities, complete with ghost stories, on a snowy Christmas Eve. He is fully aware that stories of ghosts may be told in frivolous fashion, but that ghosts themselves — real ghosts — rarely manifest in such a mood. Ashamed of his bad behavior and wishing to explain himself and make it up to his wife, he begins to write the story of his own horrific experience following the death of Mrs. Drablow in the remote village of Crythin Gifford. A young attorney, he travels up North to represent his firm at her funeral and clear up outstanding legal affairs. The reader follows Kipps casually but is soon caught up in a fearful exploration of human despair and its consequence.