'Passion Play' Trailer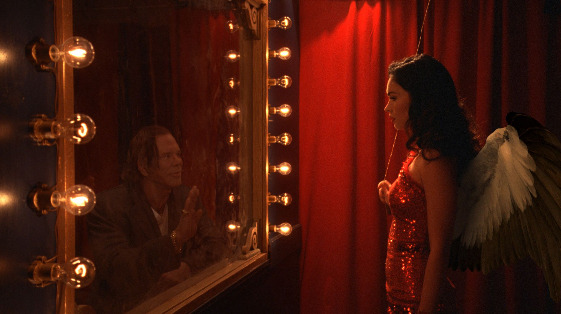 When Mitch Glazer pulled together the cast for Passion Play, it seemed like there might be reason to pay attention: Mickey Rourke is a faded trumpeter who encounters what may be a real-life angel (Megan Fox) being held in a sideshow by Bill Murray. But the film was savaged at TIFF last year and is scoring only a limited NY/LA theatrical release on May 6 before it hits DVD on May 31. There's a new trailer for the movie, which you can see below. Only the most die-hard Bill Murray fans need apply.
Even in this trailer, it is difficult to escape the sense that this one is a total misfire. Sure, Bill Murray looks weird and possibly entertaining, but Mickey Rourke seems to be sleepwalking through it, and the overall vibe is of a Salton Sea companion piece gone very wrong.
Entertainment T0night has this trailer, so blame them for the lousy quality. Or think of this as a flashback to the web 2005, whichever you prefer.
Written and directed by Mitch Glazer (screenwriter of The Recruit and Scrooged), the film boasts a heavenly cast including Academy Award® nominees Mickey Rourke and Bill Murray, Megan Fox, Rhys Ifans, Kelly Lynch and former UFC sensation, Chuck Liddell. Nate Poole (Rourke, The Wrestler, Iron Man 2) is a washed-up jazz musician fleeing from trigger-happy gangster Happy Shannon (Murray, Lost In Translation). While on the run, Nate stumbles across a traveling carnival, and is instantly mesmerized by the carnival's prized attraction, Lily "The Bird Woman" (Fox, Transformers). But Lily is no carny fake: her wings are real. The fugitive musician falls in love with this angelic creature, and he convinces her to leave with him, to the anger of her ruthless employer (Ifans, Notting Hill). The two flee across the desert, but towards... what? Their destruction? Their salvation?
You can also take a look at this poster for Passion Play, which looks a lot like the one-sheet for The Box, with a bit of Black Swan thrown in.