Screenwriting Bits: 'Basic Instinct' Scribe Joe Eszterhas Returns With 'Lust;' Chris Denham To Rewrite 'Area 51'?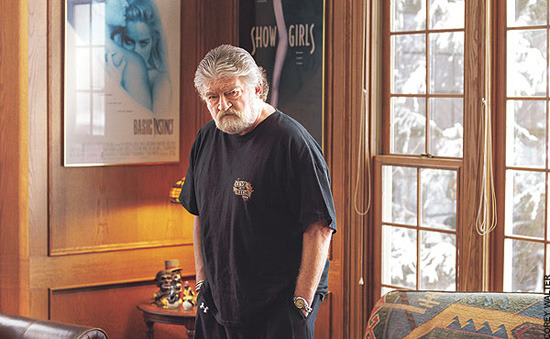 Is Paramount doing some late in the game work to Paranormal Activity director Oren Peli's new film Area 51? Bloody Disgusting reports that Chris Denham has been hired to rewrite some of the film, the wrinkle being that Area 51 wrapped months ago. Reshoots will follow for the 'found footage' film that follows " three teens whose curiosity leads them to the notorious Area 51 portion of Nellis Air Force Base in the Nevada desert."
After the break, info on the return of Joe Eszterhas, who wrote Basic Instinct and became one of the highest-paid screenwriters ever to hit Hollywood until flops like Showgirls and An Alan Smithee Film Burn Hollywood Burn helped user an end to his career in Hollywood.
That ending was obviously temporary. Joe Eszterhas retreated to Cleveland, where he has written several books including Crossbearer, which details his new-found faith after a near-fatal bout with cancer. There have been rumblings of a major return to screenwriting, and now it seems like a script called Lust could do the trick.
THR positions the new script as a midpoint between Basic Instinct and Fatal Attraction, with "a 30-year old beauty who is married and in love with an older Miami-based fashion magazine publisher, only to be seduced by a younger charming playboy on a business trip in Los Angeles. The playboy has an Russian assistant who is in love with him, and in this twisted jealous love triangle, secretly videotapes him and his new lover having sex to show it to her husband."
This leads to a sexual thriller that sounds like it fits exactly in the mold that made the screenwriter famous in the first place. Joe Eszterhas was pretty much the poster child for a certain sort of film in the '80s and '90s (in addition to films already mentioned, he wrote Flashdance, Jagged Edge, Nowhere to Run, Sliver and Jade) but the sexual thriller has fallen somewhat out of favor in recent years. This one doesn't have a director or cast yet — the idea is to pull people together, sell the rights at Cannes and then shoot this summer — but the Eszterhas name still has cachet for people who have been in the business for a long time, and a new Eszterhas script might be enough to get this one moving quickly.