Casting Bits: Hailee Steinfeld In 'Romeo & Juliet', Tim Roth Signs On For 'Arbitrage'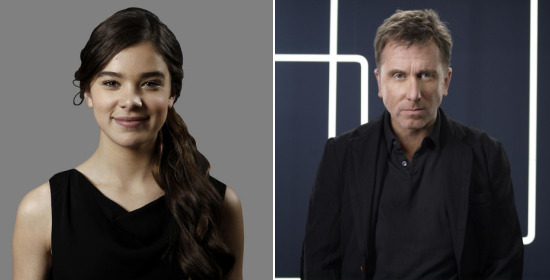 Hailee Steinfeld may have lost Katniss Everdeen to Jennifer Lawrence, but she'll be portraying an even more famous teenager soon. The young True Grit star is reportedly in talks to join Carlo Carlei's Romeo and Juliet as Juliet. For those who've somehow managed to get this far in life without knowing about Romeo and Juliet, the classic William Shakespeare play centers around a pair of teenagers from rival families who meet and fall in love, with tragic results. Kind of like Romeo Must Die, only with more emphasis on the romance angle and less on the martial arts stuff.
Carlei's earlier features include 1993's The Flight of the Innocent and 1995's Fluke. The script is being written by Julian Fellowes, whose past work includes Gosford Park, last year's The Tourist, and the critically acclaimed Brit series Downton Abbey. The $15 million picture is scheduled to begin shooting in Italy later this spring, so expect to hear an announcement about who Steinfeld might be killing herself for soon. Um, spoiler alert. [The Hollywood Reporter]
After the jump, an intriguing new project for everyone's favorite Pumpkin.
Tim Roth will be joining Richard Gere, Susan Sarandon and indie It Girl Brit Marling for Nicholas Jarecki's Arbitrage, about "a hedge fund magnate who is in over his head and desperate to complete the sale of his trading empire to a major bank before his fraud is revealed," when "an unexpected, bloody error forces him to turn to the most unlikely corner for help." Roth will be playing the part of homicide detective Michael Gower.
Roth is currently starring in Fox's Lie to Me, but movie geeks like yourselves (okay, ourselves) probably remember him more fondly from films like Pulp Fiction and Reservoir Dogs. Jarecki, who also wrote the screenplay, previously directed the 2005 documentary The Outsider.
With that cast, I'm definitely keeping this film on my radar. I'm hoping it's not too late to change the title, though — it's boring and annoying to spell, to boot. I can't tell you how many times I've almost called this film "Arbitage."
Shooting for Arbitrage is slated to begin this month in New York City. [The Film Stage]