'Armadillo' Trailer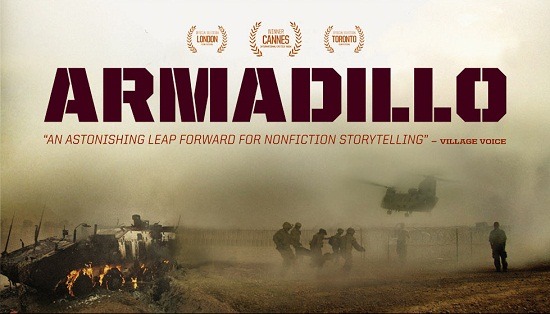 We've seen a lot of war documentaries in the past few years, and they cover the full spectrum from subtle, powerful films to routine assemblies of footage from embedded camera units. The Danish film Armadillo is the result of a filmmaking team spending six months in Afghanistan with a Danish platoon in 2009. But based on this trailer, the film is no routine mishmash of interviews and combat experience. There's one single image in the trailer that is one of the most powerful I've seen come out of a war doc in recent memory. That's enough to put the film on my list. Check out the trailer for yourself below.
That one image, which I found to be incredibly haunting, is right before the title comes up at the end of the trailer. It shows a wounded solider looking as shellshocked as I've never seen anyone. Not freaking out in any exaggerated exterior sense, but his eyes wander around in a way that suggests he's as lost as it's possible to be. I really don't know what else this film has in store, but the look on that one man's face is all I need to see. It might not do the same for you, but here's the trailer so you can check it out for yourself:
Apple will give you an HD version of the trailer.
The first documentary ever chosen to compete in the International Critics' Week at Cannes (where it won the grand prize), Janus Metz's ARMADILLO follows a platoon of Danish soldiers on a six-month tour of Afghanistan in 2009. An intimate, visually stunning account of both the horror and growing cynicism of modern warfare, the film premiered at the top of the box office in Denmark, provoking a national debate over government policy and the rules of engagement.