'Ice Age' Director Chris Wedge Options 'Wings Of Madness'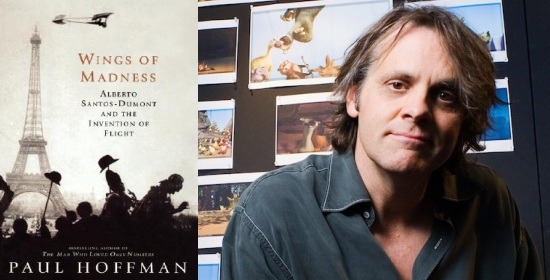 No, don't worry — Wings of Madness isn't a sequel to Wings of Desire.* Rather, it's a book about aviation pioneer Alberto Santos-Dumont, written by science writer and former Discover editor Paul Hoffman. Santos-Dumont was a Brazilian living in France who invented one of the first airplanes, independently of the Wright Brothers. His story will be brought to the big screen by Chris Wedge, who has just optioned the biography. Wedge is best known as the director of Robots and the Ice Age franchise and the voice of Ice Age's Scrat. Read more about Wings of Madness after the jump.
On the eve of the centennial of the Wright brothers' historic flights at Kitty Hawk, a new generation will learn about the other man who was once hailed worldwide as the conqueror of the air-Alberto Santos-Dumont. Because the Wright brothers worked in secrecy, word of their first flights had not reached Europe when Santos-Dumont took to the skies in 1906. The dashing, impeccably dressed inventor entertained Paris with his airborne antics-barhopping in a little dirigible that he tied to lampposts, circling above crowds around the Eiffel Tower, and crashing into rooftops.
A man celebrated, even pursued by the press in Paris, London, and New York, Santos-Dumont dined regularly with the Cartiers, the Rothschilds, and the Roosevelts. But beneath his lively public exterior, Santos-Dumont was a frenzied genius tortured by the weight of his own creation. Wings of Madness chronicles the science and history of early aviation and offers a fascinating glimpse into the mind of an extraordinary and tormented man, vividly depicting the sights and sounds of turn-of-the-century Paris.
Santos-Dumont certainly sounds like a compelling subject. Whether Wedge will be able to tell his story in an engaging manner remains to be seen. Wings of Madness would be Wedge's first live-action feature. There's nothing in Wedge's history to suggest that he has the capacity to do a film like this, but then again, his resume just isn't very long. Everyone's got to start somewhere, right?
The project is still in the very early stages at this point — neither a screenwriter nor a cast has been announced at this point. Wedge's next film will be next year's Ice Age: Continental Drift.
(* But Faraway, So Close! is a sequel to Wings of Desire, of course...)