Watch The Genndy Tartakovsky-Animated Prequel For Scott Stewart's 'Priest'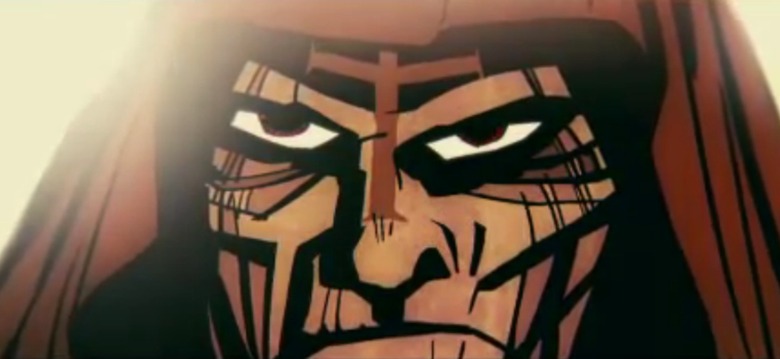 If you found the first few glimpses of Scott Stewart's Priest to be confusing — and I wouldn't blame you, that
was pretty "huh?"-worthy — here's something that might help. Animator Genndy Tartakovsky (Samurai Jack, Dexter's Laboratory) has created a three-minute animated prequel to the film that explains some of the setup and gives a taste of what kind of tone we can expect from the movie. Watch it after the jump.
[via
]
The backstory for Priest still seems rather complicated, but the prequel goes a long way toward making it more coherent. And the animation looks good — perhaps too good. I think I'd rather watch this movie than the actual live-action feature directed by Stewart.
Priest is based on a comic series by Hyung Min-woo, and stars Paul Bettany, Karl Urban, Cam Gigandet, Maggie Q, and Lily Collins. The film marks a reunion for Stewart and Bettany — the two worked together previously on last year's critically panned Legion. Priest will open in 3D on May 13, 2011.
If you want even more explanation of the setup for the film, here's the official synopsis:
Priest is set in a world ravaged by centuries of war between man and vampires. Paul Bettany is Priest, a legendary warrior priest during the last Vampire War, who now lives in obscurity among the other human inhabitants in walled-in dystopian cities controlled by the Church. But when his 18-year-old niece is abducted by a murderous pack of vampires in the desolate wastelands outside, Priest breaks his sacred vows and ventures out to find her and seek vengeance upon those responsible, especially their brutal leader (Karl Urban). Priest is joined on his crusade by his niece's boyfriend, Hicks (Cam Gigandet), a local outpost sheriff, and Priestess (Maggie Q), a member of his former legion of vampire-killers who has otherworldly fighting skills.