Casting Bits: Carrie-Anne Moss & Malcolm McDowell In 'Silent Hill;' Addison Timlin In 'Odd Thomas;' Thandie Newton In Tyler Perry's 'Good Deeds'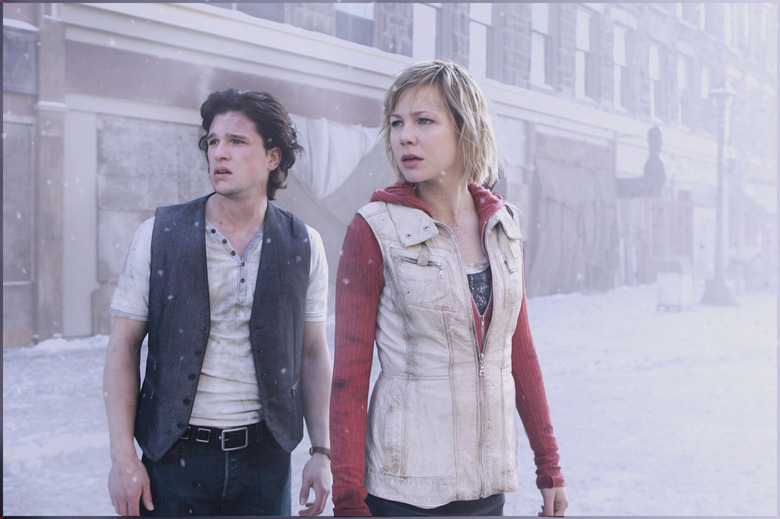 The Silent Hill sequel, Silent Hill: Revelation 3D, is shooting right now in Toronto, and keeps adding cast members as it does. Director Michael J. Bassett (Solomon Kane) already had Adelaide Clemens and Kit Harington starring, with Radha Mitchell, Sean Bean and Deborah Kara Unger reprising their Silent Hill roles in some unknown capacity.
Now a press release announces that the film also boasts Carrie-Ann Moss as Claudia Wolf and Malcolm McDowell as Leonard Wolf. In the video game Silent Hill 3, Claudia is a major character (modeled to look like Julianne Moore, actually) who sets a good chunk of the plot in motion, and isn't exactly a passive or sane presence. Read more about her here (and about her father Leonard here) but be warned of possible spoilers for the film. The header image for this article, by the way, is a new still of Adelaide Clemens and Kit Harinton in the film, that was supplied with the press release. Click it to enlarge.
After the break, the Dean Koontz adaptation Odd Thomas gets a young actress and Tyler Perry's next finds a romantic lead.
Stephen Sommers is getting set to adapt the first book in Dean Koontz's Odd Thomas series. Already set to play the title character, "a clairvoyant short-order cook who encounters a mysterious man with a link to dark forces," is Anton Yelchin (Terminator: Salvation, Fright Night). Now Addison Timlin (Californication) is in talks to play the female lead in the film; it looked like Lily Collins would get the gig, but then she became Snow White for Relativity instead. The film will shoot in May in New Mexico. [Variety]
Last but not least, Thandie Newton will do another movie with Tyler Perry. (He directed her in For Colored Girls.) She'll play his romantic interest in Good Deeds, the film he just set up this week at Lionsgate. This one sets aside his Madea character for a minute. Instead he'll play Glen Deeds, " an affluent and successful entrepreneur who's about to get married when he becomes enamored by a down-on-her-luck single mom." That would be Thandie Newton.
Good Deeds will shoot later this month in Atlanta. [Variety]