Huge Image Gallery For Quentin Vs. Coens Art Show; Open April 7-9 In NY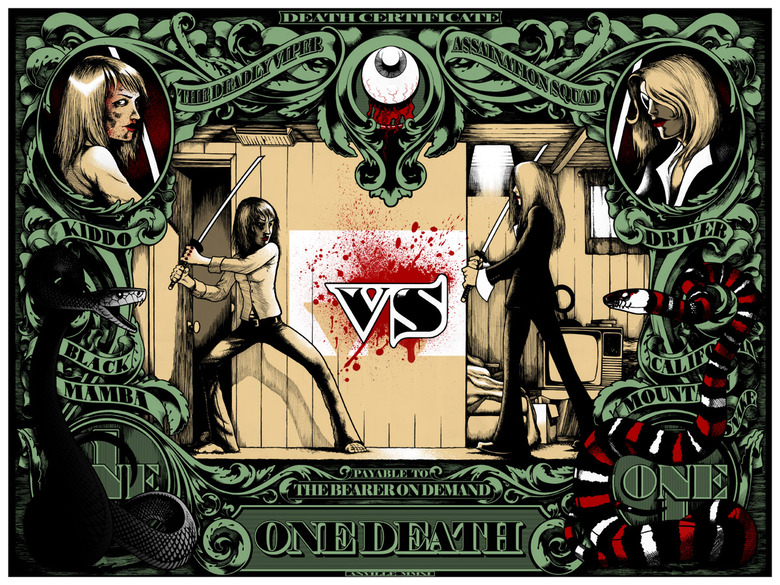 For three days only, New York fans of Quentin Tarantino and The Coen Brothers are going to be in art heaven. The Spoke Art Quentin vs. Coens art show opens at the Bold Hype Gallery in New York from this Thursday-Saturday only and is even more epic than we originally reported. We first ran a small gallery of images, then featured awesome prints by Tim Doyle and Max Dalton, but with the show opening Thursday, so much more art has come to light that we had to share it with you. Below you'll find over 20 images from the show, all of which will be for sale, dramatizing and interpreting classic Coen and Tarantino films like Raising Arizona, No Country for Old Men, Barton Fink, The Big Lebowksi, Kill Bill, Reservoir Dogs and so on. Check out the images and all the specific information after the jump.
Big thanks to Ken Harman at Spoke Art as well as our friends at Inside the Rock Poster for some of these images.
Quentin vs. Coens will be open from April 7-9 at the Bold Hype Gallery, 547 W 27th St, 5th floor, NY, NY. Gallery hours are 6-11 p.m. April 7, noon-5 p.m. April 8-9. Visit boldhype.net or call 212-868-2322 for more on the gallery. For more information on the show, visit Spoke Art's homepage, their Facebook page or the show's event page. To buy art, keep it locked here.
Here are images from the show. Mouse over each for the artist's name.
Are you going to try and attend this show this weekend?