This Week In DVD & Blu-Ray: Tron Legacy, Little Fockers, The Chronicles Of Narnia: The Voyage Of The Dawn Treader, I Love You Phillip Morris, And More
We may receive a commission on purchases made from links.
This Week in DVD & Blu-ray is a column that compiles all the latest info regarding new DVD and Blu-ray releases, sales, and exclusive deals from stores including Target, Best Buy and Fry's.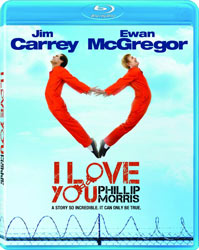 I LOVE YOU PHILLIP MORRIS
I Love You Phillip Morris is a rare breed. When it comes to true story tales of brilliant-minded men against the law, there are only so many forms we can expect to see those stories take on the big screen — as a historical crime drama perhaps, or an upbeat caper thriller — but Bad Santa writers Glenn Ficarra & John Requa saw the potential for something different for their directorial debut, and opted for a campy romantic comedy instead. Their decision paid off wonders. The film still suffers a tad from formula fatigue, but by finding the humor in the absurd, the predictably of the proceedings is effortlessly overcome by the pic's sheer good-natured charm. Much of that credit is owed to Jim Carrey and the bright-eyed Ewan McGregor, who are a perfect fit for the film's playfully innocent tone. The true highlight of the film though is the subversive, darkly comedic edge that its directors inject during opportune moments to offset the saccharine sweetness, providing the film an underlying notion of reality that's both hilarious and smartly demonstrative of how our circumstances in life are all about the outlook with which we choose to perceive them.
Available on Blu-ray? Yes.
Notable Extras: DVD & Blu-ray – Audio commentary with producer Andrew Lazar and writers/directors John Requa & Glenn Ficarra, and a "The Making of I Love You Phillip Morris" featurette.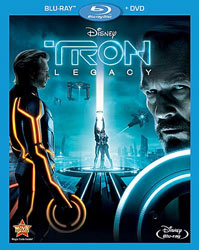 TRON LEGACY
If the spectacle of Tron Legacy's computerized world delivered even half the thrill that Daft Punk's stellar score does, it would be an instant buy. It doesn't, and it's not. This film is spectacularly dull. The concept of genuine human emotion seems to have eluded it completely, which is ironic considering its message — a half-baked endorsement of familial bonds over the technological artifice from which the film so clearly derives its true purpose. With the exception of its vibrant neon color scheme, even the visuals fail to entice. The presentation is so overtly staged and theatrical, and the world itself so goofily nonsensical, the simple allure of hanging out in a highly stylized environment loses its appeal within the first half hour. I wish I could say differently of the action, but there's very little of it, and what is there seems to exist solely to recreate scenes from the first film with cooler special effects. That might be OK if the action was exciting on any level, but each and every impressively detailed, intensely symmetrical sequence maintains a cold and impersonal distance from the combat, never giving the audience a chance to feel like they're experiencing it for themselves. Meanwhile, the time spent in between those sequences — of which there's a staggering amount — is dedicated to passively assessing how to get from point A to point B, as well as monologuing about how technology is going to change religion and cure cancer and all sorts of other really momentous but utterly vague stuff! What fun.
Available on Blu-ray? Yes.
Notable Extras: DVD – 3 featuretes ("Visualizing TRON", "Installing the Cast", "First Look at TRON: Uprising – the Disney XD Animated Series"). Blu-ray – Includes everything on the DVD, as well as additional featurettes ("The Next Day: Flynn Lives Revealed", "Disney Second Screen – TRON: Legacy", "Launching the Legacy", "Disc Roars"), and a "Derezzed" music video by Daft Punk.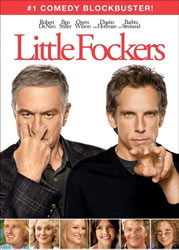 LITTLE FOCKERS
I could describe to you the extreme unpleasantness of sitting through Little Fockers, but I'd much rather let you experience it for yourself — in image form. If that gallery doesn't give you a strong indication of what an agonizingly labored and unrepentantly needless film this is, then by all means, enjoy.
Available on Blu-ray? Yes.
Notable Extras: DVD – An alternate opening and ending, deleted scenes, a Making of a Godfocker featurette, a gag reel, and more. Blu-ray – Includes everything on the DVD, as well as a digital copy of the film.
EXCLUSIVE DEAL:
What? Blu-ray includes magnetic photo frame with Little Fockers quote bubbles.
Where? Target.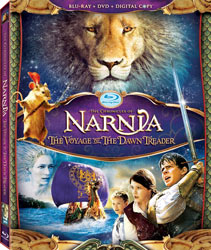 THE CHRONICLES OF NARNIA: THE VOYAGE OF THE DAWN TREADER
(Releases on Friday, April 8 — DVD available as single-disc and 2-Disc Edition)
Who is watching these movies? That's not a rhetorical question. I would truly like to know. There is a seldom a film that goes by without somebody either asking what I thought of it or recommending it to me or telling me it's shit, but the Narnia series seems to exist in a void of indifference. Not once since the release of the first film in the series have I heard it or any of its entries mentioned in a conversation that didn't pertain to the topic of, "Is anybody going to care if we don't review this?" The answer we arrived at was, "No", and so far, we've received no complaints to the contrary.
Available on Blu-ray? Yes.
Notable Extras: Single disc DVD – A commentary by Director Michael Apted and Producer Mark Johnson, and deleted scenes. 2-disc DVD – Includes everything on the single-disc DVD, as well as an Untold Adventures of The Dawn Treader Animated Short, King Caspian's Guide to the Dawn Treader: Legends and Lore of the Great Ship, 5 Islands Explorations, Narnian Discoveries: Friends and Foes of Narnia (7 featurettes), 4 Fox Movie Channel Presents Behind The Scenes Featurettes, and a Sword Game. Blu-ray – Includes everything on the 2-disc DVD, as well as 3 Behind-the-Scenes Featurettes including Battle on the Sea, and a digital copy of the film.
*Does not include 2-Disc Edition, which costs $19.99 at Target, Best Buy and Amazon.
Other noteworthy DVD (and Blu-ray) releases this week...
Casino Jack [DVD / Blu-ray] – Friday Night Lights (Season 5)
Noteworthy Blu-ray-specific releases this week...
Taxi Driver – Tron: The Original Classic – A.I.: Artificial Intelligence – Fiddler on the Roof – Babe – The People vs. Larry Flynt – Benny & Joon

NOTES: Some deals may vary by store. Some deals may be in-store only. All deals are for DVDs unless otherwise noted.

$12.99 – South Park (Season 1 – 13)
$4.75 – Walk the Line, Matilda, Mrs. Doubtfire, Over the Hedge