Keanu Reeves Describes Samurai Film '47 Ronin' A Quasi-Western About "Revenge And Impossible Love"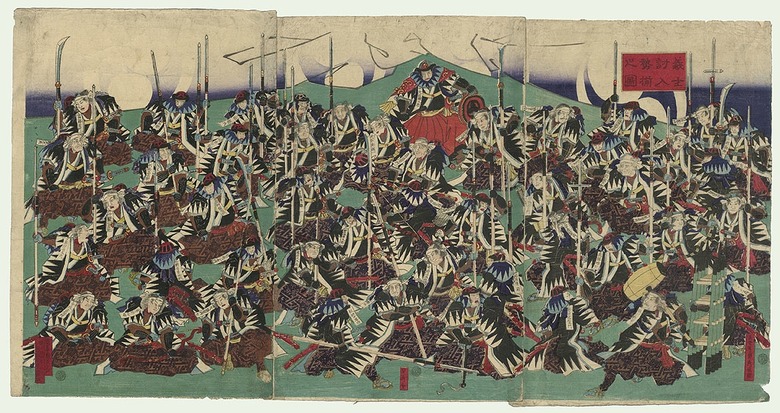 Keanu Reeves is currently shooting the epic period samurai film 47 Ronin, directed by acclaimed commercial director and Ridley Scott protege Carl Erik Rinsch. Based on a true 18th Century Japanese story, the film follows a band of samurai swordsmen who are shamed into becoming the titular ronin — a Japanese word meaning lord-less samurai, and must avenge the death of their master. They construct a huge plan and sacrifice everything to see it through. Wanted screenwriter Chris Morgan has described the project as a "great, Gladiator-esque, 300-like big action movie with samurai and ninja." Reeves recently talked with MTV, and described the movie as "kind of a western".
Rinsch tells MTV:
It's in 3D. It's kind of a western. I call it a story of revenge and impossible love. The samurai become ronin, outcast, and decide to enact revenge on the person who is responsible for the death of their lord. And I play an outsider, a kind of half-breed with a mysterious past named Kai, who's in love with the princess and she's in love with me, but we can't be together. But during this journey and revenge, things change.
Screenwriter Morgan has previously described the plot as follows:
"It's a time in Japanese culture when it was all about [the] bushido [code] and honor, and putting internal things over external things -- swords that were made to be functional instead of ornamental, that kind of stuff," Morgan previously told MTV. "this turning point in the culture when that started to shift. Society started to be more about external kind of things. The story is about these samurai whose lord is killed in an unfair way."
Rinsch's big screen debut is being produced, shot, and released in 3D. You might recognize Rinsch's name as he was originally tapped to direct a prequel/remake of Alien, but Fox convinced Ridley Scott to helm the project himself. I was one of the few people actually interested in Rinsch's involvement. Rinsch's commercials show an amazing sense of imagination, visual effects artistry and composition. We've profiled his amazing commercials on the site, more than once. If you havent checked them out yet, you should do so now.
47 Ronin will be released in theaters in 3D on Wednesday, November 21, 2012.