WB Picks Up 'Two Guns;' Now There Are Multiple Wyatt Earp Projects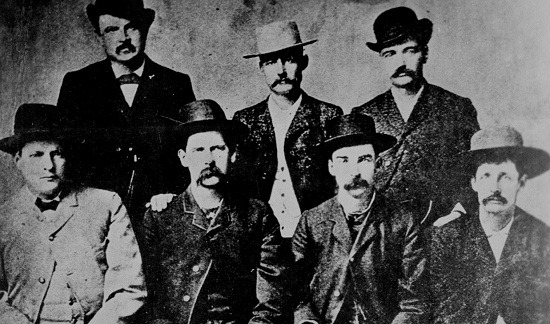 For the rest of 2011, let's just assume that if any one producer starting moving forward with a new film based on a story or character that has even a vague recognizance rating, others will soon flock to the same subject. See: Snow White, Peter Pan, even Gertrude Bell. Recently we saw that Val Kilmer had been cast in an indie film about Wyatt Earp, and now Warner Bros has picked up a spec script called Wild Guns, which also concerns Earp and his companion (and former Val Kilmer role) Doc Holliday.
THR says the studio grabbed T.S. Nowlin's spec, which is "Described as having shades of Tombstone and Sherlock Holmes, the story is  set shortly after the Civil War and follows legendary gunslingers Wyatt Earp and Doc Holliday. The duo team-up to rescue the daughter of Sitting Bull, who has been kidnapped by a powerful Shaman with mysterious powers who is terrorizing the Western plains."
In this case the pickup is more due to the increased overall interest in westerns than because Wyatt Earp is a particularly popular character, and from the sound of it, I'd guess this is being developed as a project that would fit the action/adventure mold that did so well for WB with Sherlock Holmes. In other words, this is no Tombstone redo (or Wyatt Earp re-do) but rather something a little more far-fetched. Hopefully not Wild Wild West far-fetched...
The indie Earp film is shooting now, so this is case where the bigger studio project will lag way behind. Given the pedigree of the indie it is also unlikely that it will do any huge business, and so WB won't look like it is chasing anyone else by the time this one gets made. (If it gets made.)