Sequel Bits: Keanu Reeves Says 'Bill And Ted 3' Draft Done Soon; Roberto Orci Talks 'Star Trek 2' Development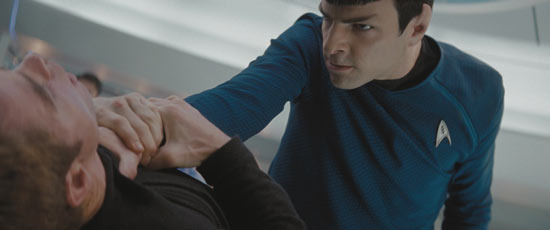 As unlikely sequels go, Bill and Ted 3 always seemed pretty damn unlikely. But last year both Keanu Reeves and Alex Winter have talked about the script, and now a draft is almost done. Keanu Reeves recently told MTV that writers are about six weeks from a draft, and that "When we last got together, part of it was that Bill and Ted were supposed to have written the song that saved the world, and it hasn't happened... So they've now become kind of possessed by trying to do that. Then there's an element of time and they have to go back." So the film, should it somehow get made, which could itself almost be the plot of a Bill and Ted type movie, would jump right off from the end of the last one. Which was released twenty years ago. There's some comedy to be mined there — have the two lovable goons been stuck in some sort of time bubble for two decades? I'll be quietly fascinated to see how this one goes.
After the break, Roberto Orci, who is writing Star Trek 2 with working partner Alex Kurtzman, talked a bit about their approach to the sequel.
Speaking to ComingSoon, the writer admitted that the reaction to Star Trek is helping shape this sequel:
Everyone said [Kirk] is too young to become Captain... So maybe in the next movie, somebody goes, 'Man, you sure became Captain young and fast.' You start to incorporate people's opinions... If it's organic to the story and you find someone who doesn't think too highly of Kirk because he maybe skipped a few steps, that's maybe a fun thing to consider. That comes from a fan reaction and maybe gives you a story point.
In the past he and Alex Kurtzman seemed to be wrestling with the idea of accepting criticism about the first film head on, generally saying they'd set everything aside when it came time to write, but that is probably very difficult to do. And considering criticism leads to good ideas, then why not?
[Fans] wanted more character time with everybody, and, because that was an origin story for 'Star Trek,' everyone had to come in at a certain point. Now everyone is going to be there from the beginning, so they're going to get that. Everyone sure hated engineering. They thought it looked like a brewery, which it was. I'll pass that on to J.J. [Abrams] and see what he says.
Remember, too, that when the last film was shot the writer's strike was ongoing, so nothing in the script could technically be changed on set. (No writer around = no script changes.) But they shouldn't have that problem this time, and the duo expects to be on set polishing even as the shoot goes on.