Will And Jaden Smith To Star In Sci-Fi Film Directed By M. Night Shyamalan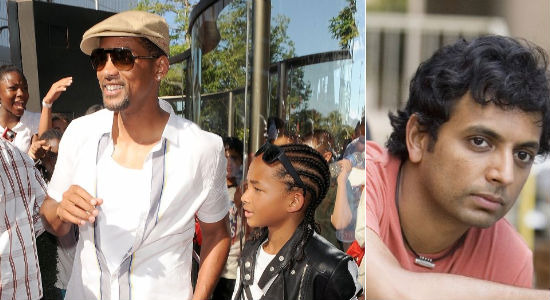 Despite writing and directing a multiple Razzie award-winning film his last time out, M. Night Shyamalan has now officially bagged two major stars for his follow-up. Shyamalan had previously mentioned he was prepping a sci-fi film for Jaden Smith and that's just been made official, adding the news that Jaden will co-star with his father, Will Smith.
The Sony Pictures press release refers to the film as "an untitled sci-fi adventure" but, last year, Shyamalan had been calling it One Thousand A.E. That title fits with the current description, which says that, one thousand years after Earth has been abandoned, a young boy and his father return to the now frightening planet after their spaceship crashes. The script was co-written by Shyamalan and Gary Whitta. Read more after the jump.
In the press release, Doug Belgrad, the president of Columbia Pictures said the following:
Night is an outstanding filmmaker who has a tremendous vision for this science-fiction adventure story and we couldn't be more excited to be working again with Jaden after our experiences on The Pursuit of Happyness and The Karate Kid. We're thrilled to have the two of them together on this project.
Shyamalan added this:
The chance to make a scary, science-fiction film starring Jaden and Will is my dream project.
Originally, it was reported that Will Smith was strictly going to be on this film as a producer and not play the on-screen father of his off-screen son. That obviously changed, however, probably because Will's involvement take any project and automatically turns it into a green light. He'll still produce, though, along with several other people working under his company, Overbrook Entertainment.
I'd love to say that I'm excited to see Shyamalan do a scary science fiction movie but, after his last few films, that would be a lie. The truth is at this point, I trust the judgment of Will Smith or even Jaden Smith (The Karate Kid remake wasn't Airbender bad, was it?) over Shyamalan's and they'll certainly have some creative say. Still, we know Shyamalan's got talent in there and maybe he just needs a new genre and an original, scary story be once again reach his potential.
What are your thoughts on this one?