'Star Tours: The Adventures Continue' Destinations Revealed
The first departure date for Star Tours: The Adventures Continue is rapidly approaching at both Disneyland in Anaheim, California and Walt Disney World in Orlando, Florida. But where will the adventures take us? We already know that the totally revamped 3D thrill ride will take its riders on upwards of 50 different adventures each time they get on and now we've got the full list of planets and destinations that riders will be traveling to. Check them out after the break.
Thanks to the DisneyParks blog for this info. Here are the locations that Star Tours: The Adventures Continue will go to.
Tatooine for the Boonta Eve Podrace
Coruscant
Naboo
Kashyyyk
Hoth
The Death Star over Geonosis
And here's an image of the departure board: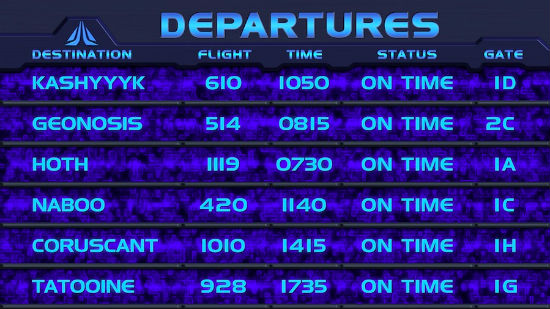 Add this to the previously announced list of secondary characters that will be seen in the ride and you can begin to see how varied this whole experience is going to be. I cannot wait to ride this ride.
The updated version of Star Tours, Star Tours: The Adventures Continue, opens on May 20 at Walt Disney World in Florida and June 3 at Disneyland in California.