Arnold Schwarzenegger's 'The Governator' Will Also Become A 3D Film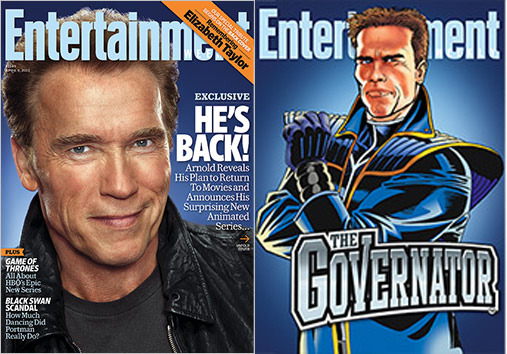 Arnold Schwarzenegger's first big move back into entertainment after finishing out his term as governor of California is the animated TV series and superhero comic book project The Governator, which is being developed with Stan Lee. The show will be exactly what the title suggests: Arnold voices and is the the design basis for a superhero that fights bad guys and gridlocked state legislatures. (Or something like that.)
But a comic book and TV series aren't enough, so there will be a 3D film as well.
Deadline reports from the press conference that was originally going to announce the whole project before EW got to break some of the news. The film will be ready in 2013, and while the site doesn't specify that it will be animated, that is the implication. There is also the reiteration of the fact that the actor is considering a great many other scripts, and he says that he will make a proper return to movies as well as being part of this project.
What's the best part of this? That Arnie's animated alter-ego might fight the forces of tyranny in the Middle East, so long as they're not interested in watching the Governator. Try and figure out which parts, if any, of the following quote are spoken tongue in cheek. Arnie said this in response to a question about the Governator fighting Muammar al-Gaddafi:
Who knows? I don't want to make headlines, that means you won't write about The Governator. That might be going in the wrong direction. But the way things are going, we may have a chance of selling our series down there.
Spoken like a true politician! (And, yes, admittedly, the idea of the Governator actually fighting Gaddafi in a storyline is ridiculous to begin with. But who will he fight in the feature-length version?)