Bret Mckenzie To Reprise Role Of Figwit In 'The Hobbit'?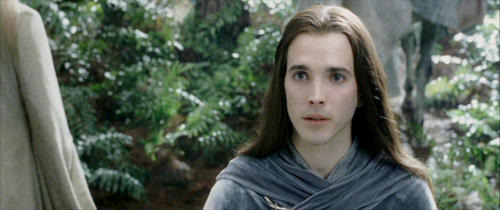 The Hobbit is in full swing, at long last. Since the shoot began there hasn't been a lot of big news about the production; Peter Jackson is just trying to get the movie made while preserving some mystery. Measures are being taken, for instance, to ensure that the photos that leak out are pretty useless. Ian McKellan has talked about getting back into character, but in general the updates are very minor.
But this is a minor update that is pretty great: Peter Jackson is reportedly working to bring Bret McKenzie (Flight of the Conchords) back to play a character seen for only a few seconds in The Fellowship of the Ring and The Return of the King.
In Fellowship, Bret McKenzie played an elf seen very briefly in the council meeting where plans to destroy the One Ring are decided. After Frodo accepts his burden the camera pans to a pretty elf, played by Flight of the Conchords star. (Well, he wasn't really a star then.) As the story goes someone said "Frodo is grea...who is that?" Shortened to Figwit, that became the character's official name. (As seen on official trading cards!)
There is a not quite serious website devoted to Figwit worship, and you'd be right to call the origin of his name into question. But it's a cute little bit ephemera for the LotR films. (One of which I knew nothing about before seeing this Stuff article, via the Playlist.) And if he makes it into The Hobbit, perhaps even with a slightly larger role, it would be a treat for the most detail-obsessed fans.