'Everything Must Go' Trailer And Poster: Will Ferrell Gets Serious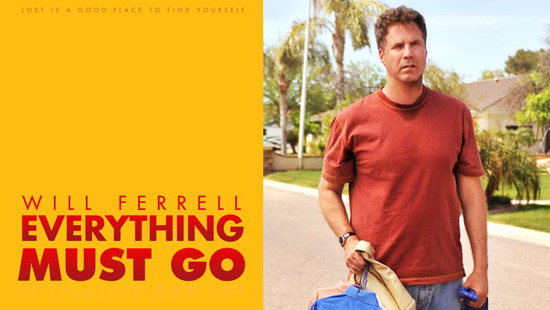 In late 2009 Dan Rush started turning Raymond Carver's short story Why Don't You Dance? into a film called Everything Must Go, starring Will Farrell in a very rare dramatic turn. He plays an alcoholic who, in the same day, loses his job and is thrown out by his wife. With his possessions scattered on the lawn of his former home, he spends a week living out in the open and confronting his problems. There's now a trailer for the film, so you can get a taste of how that all goes down.
The film premiered at TIFF last year and was generally well-received, though there were reviews that said Will Ferrell's acting wasn't quite up to the task of dredging the depths of his character. While I won't go so far as to say the trailer affirms that criticism, I will say that the way this footage is edited makes the film look like a fairly standard indie in which a bit of quirky humor is the candy shell around an earnest, emotional dramatic center. Rebecca Hall, Laura Dern, Michael Peña, Stephen Root, and Christopher Jordan Wallace are the supporting cast, and they all look appealing enough. What do you think — boilerplate indie, or has this trailer been cut to disguise some of Raymond Carver's trademark intensity?
Head to Apple for the HD version of the trailer.
Adapted and directed by Dan Rush, and based on a short story by Raymond Carver, EVERYTHING MUST GO tells the story of NICK PORTER (WILL FERRELL) a career salesman whose days of being on top are long gone. The same day Nick gets fired, for falling off the wagon one last time, he returns home to discover his wife has left him, changed the locks on their suburban home and dumped all his possessions out on the front yard. Faced with his life imploding, Nick puts it all on the line – or more properly, on the lawn – reluctantly holding a yard sale that becomes a unique strategy for survival.