Arnold Schwarzenegger Is Animated Hero 'The Governator'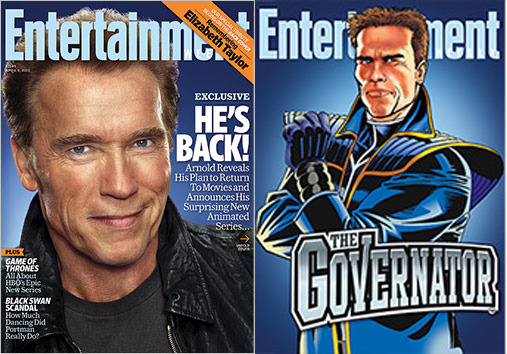 Since he left office not long ago, Arnold Schwarzenegger has reportedly been considering quite a few new film projects. But over the last couple weeks word emerged that his first new project would be a TV series. That soon was adjusted to an animated TV series. And now the cat's out of the bag: going right for the most obvious character possible, the governator will actually voice an animated character in a show called The Governator.
While we heard this would all be announced in early April during a press conference, EW has just debuted a cover story with the animated character front an center on the magazine. The project will be a comic book and animated show, and will arrive in 2012. Stan Lee is co-developing, and says,
The Governator is going to be a great superhero, but he'll also be Arnold Schwarzenegger. We're using all the personal elements of Arnold's life. We're using his wife [Maria Shriver]. We're using his kids. We're using the fact that he used to be governor. Only after he leaves the governor's office, Arnold decides to become a crime fighter and builds a secret high-tech crime-fighting center under his house in Brentwood.
The character will have powered suits (so he can fly, natch) and several young sidekicks. Why would the Governator stick to just one? He needs a whole sidekick cabinet, right? Oh, and one of the enemies will be... I'm really sorry about this... "an evil organization called Gangsters Imposters Racketeers Liars & Irredeemable Ex-cons (or G.I.R.L.I.E. Men, for short)." I can't wait to see how this actually addresses politics, though I don't expect there will be much real meat there.
There's a non-embeddable video of Arnie talking about the new show on EW's Facebook page. There he says,
It takes my entire career, basically, whether it is bodybuilding, action movies, if it is the governorship, it takes all those things and combines it into one, and makes it into The Governator. That guy is designed to fight crime, to fight natural disasters, this guy will be jumping into action.. and he will eliminate the problems.
He also says the Constitution doesn't allow him to run for President, so he's doing this instead.
So. What say you? This is for kids, or so it seems, so the fact that it seems really, really silly is a little easier to put aside. I suspect, though, that it's not quite the return to form some had hoped for. That EW issue will supposedly have some more info about film projects, so we'll follow up as soon as possible.