Paramount Options Young Adult Sci-Fi Novel 'Earthseed'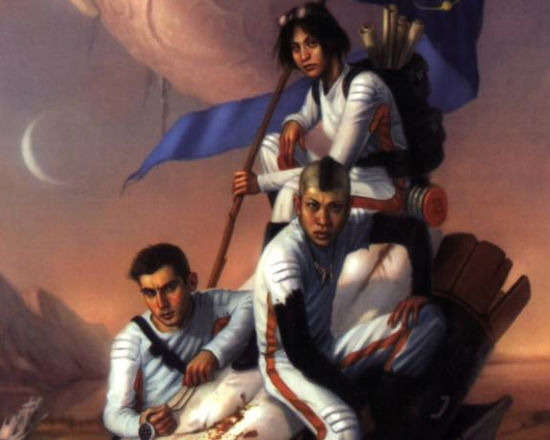 We may receive a commission on purchases made from links.
Earth is dying. In a last ditch attempt to keep humanity alive, humans blindly send an intelligent ship into space to raise a group of children hoping they'll find a habitable planet to live on and keep the species going. That's the set up of Earthseed, an award winning 1983 young adult novel by Pamela Sargent which has just been optioned by Paramount Pictures. Melissa Rosenberg, the writer of all five Twilight movies as well as the upcoming Highlander, will pen the adaptation and produce. Read more about the story and this deal after the break.
Earthseed spawned two sequels: Farseed, published in 2007, and Seed Seeker, published in 2010, so Paramount sees this first film as a potential franchise starter. It certainly sounds like it from this description from Amazon:
Ship hurtles through space. Deep within its core, it carries the seed of humankind. Launched by the people of a dying Earth over a century ago, its mission is to find a habitable world for the children–fifteen-year-old Zoheret and her shipmates–whom it has created from its genetic banks. To Zoheret and her shipmates, Ship has been mother, father, and loving teacher, preparing them for their biggest challenge: to survive on their own, on an uninhabited planet, without Ship's protection. Now that day is almost upon them...but are they ready to leave Ship? Ship devises a test. And suddenly, instincts that have been latent for over a hundred years take over. Zoheret watches as friends become strangers–and enemies. Can Zoheret and her companions overcome the biggest obstacle to the survival of the human race–themselves?
It sort of sounds like Battlestar Galactica combined with Ender's Game and 2001: A Space Odyssey. Here's what Rosenberg said about the opportunity to adapt and produce the material.
EARTHSEED is an incredibly compelling world and I'm excited to dive into it.  The film's premise easily lends itself to an exciting franchise with plenty of room for invention and humor.  I'm drawn to complex female characters in compelling high concept stories, and this is the perfect first movie for me to produce under my Tall Girls Productions banner.
Rosenberg has the two Twilight Saga: Breaking Dawn films scheduled for release and is currently writing Highlander as well as developing a show for ABC called AKA Jessica Jones.
Have any of you read this book? Do you think it's going to make a good film?