Bill Murray To Play Franklin Delano Roosevelt In 'Hyde Park On Hudson'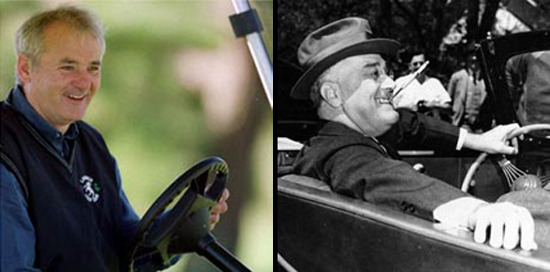 See if you can figure out what to make of this. In July Bill Murray will reportedly play president Franklin Delano Roosevelt in a film adaptation of radio play Hyde Park on Hudson. Never one to make the obvious choice when selecting new roles, Bill Murray seems to be going a bit further afield than usual with this one. And yet it makes a certain sort of sense. He was scarily convincing as a Dick Cheney sort of character in The Limits of Control, so why not go fully Presidential? You know he'll own the role if he has half a mind to. More details follow.
Richard Melson wrote the radio play that aired on the BBC in 2009, and he adapted the script. Directing is Roger Mitchell, who last made Morning Glory and directed Notting Hill and Changing Lanes.
Set in 1939, the play features FDR and his distant cousin Margaret Stuckley (called Daisy in the play) as they have an illicit affair while King George VI and Queen Elizabeth are making their first visit to America. Per the BBC, here's the plot overview:
No reigning British monarch had ever been to the United States before George VI's visit in 1939, just on the cusp of a new world war. History was in the making when the King and Queen arrived at President Roosevelt's upstate New York home, with a promise of politics, a picnic and hot dogs. But the private life of the President provided a whole new dimension to an epochal moment, at least in the memory of his lover.
The play seems to focus on FDR's close circle. Eleanor Roosevelt shows up, as does his secretary of 21 years, Marguerite "Missy" LeHand. We don't know the rest of the cast, but I imagine that when the producers can claim that they've got Bill Murray playing FDR they'll be able to line up just about anyone who is available for the summer shoot. [Vulture]