This Week In DVD & Blu-Ray: Black Swan, Tangled, Fair Game, Treme (Season 1), And More
We may receive a commission on purchases made from links.
This Week in DVD & Blu-ray is a column that compiles all the latest info regarding new DVD and Blu-ray releases, sales, and exclusive deals from stores including Target, Best Buy and Fry's.

BLACK SWAN
Darren Aronofsky doesn't want you to experience joy or happiness. He wants to devastate you. He wants to punish you as he does his characters, fully immersing you in every dreary facet of their world as it collapses around them. And he is really, really good at it. Aronofsky has always shown a fascination with the degeneration of the body and mind, finding its limits when tested against paranoia, addiction, disease and giant planks of wood covered in nails and barbed wire. It's amusing then, that his most horrifying exercise in body horror would be a wildly operatic melodrama about ballet. In Black Swan, you are not treated as an observer to Natalie Portman's physical and psychological torment; you are made to experience it through her. There is never a moment of rest. The more Portman strives for perfection, the more she feels as though she could break at any moment — and Aronofsky makes damn sure you feel it too. His goal, I can only imagine, was to force the audience into a perpetual state of exhaustive madness. Well, mission accomplished.
Available on Blu-ray? Yes.
Notable Extras: DVD – A "Metamorphosis: A Three-Part Series" feature. Blu-ray – Includes everything on the DVD, as well as 3 additional features ("Behind the Curtain", "Ten Years in the Making", "Cast Profiles – Roles of a Lifetime").
EXCLUSIVE DEAL:
What? Black Swan DVD+Blu-ray+digital copy ($19.99).
Where? Target.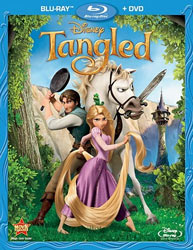 TANGLED
Disney has more or less lost its way over the years, and between The Princess and the Frog and now Tangled, it seems they know it. It's a shame, then, that Tangled is incapable of being anything more than your typical inoffensive kiddy fare. As much as I appreciate the effort, the film feels too routine to truly fulfill its old school Disney aspirations. It can be mildly charming on occasion, but lacks a sense of spontaneity, even if only an illusory one. Everything — from the musical numbers to the humor to the side characters — feels calculated, and that strips away much of the fun that those elements are intended to generate. If Disney really wants a return to form, they're going to have to stop trying so hard for a return to form.
Available on Blu-ray? Yes.
Notable Extras: DVD – 2 original storybook openings, and 50th Animated Countdown. Blu-ray – Includes everything on the DVD, as well as 3 deleted scenes, The Making of a Fairy Tale, and 2 extended songs.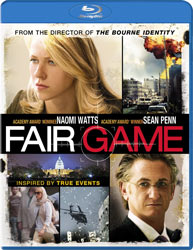 FAIR GAME
The degree to which you engage with Fair Game will almost certainly be dependent on how heavily you side with its leftwing leanings, and if you share its righteous anger in the face of dirty political tactics such as the ones found in its true story (to which the film aims to be resolutely loyal). But being that it currently seems impossible to get a handle on the validity of Fair Game's assertions — there may or may not be flagrant distortions and fabrications of the truth, but good luck proving it either way — one must then be forced to judge the film on its merits as a political thriller and domestic drama. It fails as both. Trying desperately to instill some sense of urgency through incessant shaky cam, the film is unable to overcome the monotony of its shady political dealings. It also tries to spice the proceedings up with the human drama element at the center of the story — the ruffled marriage between Naomi Watts and Sean Penn — but the relationship is so lacking in complexity or passion that it's hard to care. What you're left with instead is a series of dramatically inert conversations that are ripe with sanctimonious finger-wagging and, eventually, self-satisfied back-patting. Not my cup of tea.
Available on Blu-ray? Yes.
Notable Extras: DVD & Blu-ray – An audio commentary with Valerie Plame Wilson and Joe Wilson.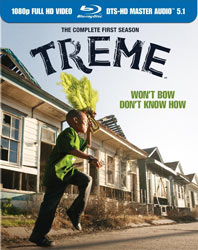 TREME (SEASON 1)
Taking place three months after Hurricane Katrina, Treme follows ten residents of New Orleans as they attempt to rebuild their lives and preserve their culture. I haven't had a chance to finish the first season, but from what I've seen, it's another exceptionally well drawn character drama from The Wire creator David Simon. It doesn't share the same intense narrative momentum of The Wire, but with every character bringing to the show their own unique cultural inclinations and struggles, the show manages to keep a compelling pace all the same.
Available on Blu-ray? Yes.
Notable Extras: DVD & Blu-ray – Audio commentaries, and featurettes.
MADE IN DAGENHAM
A true story about the 1968 strike at the Ford Dagenham car plant, where female workers walked out in protest against sexual discrimination. The film (which stars Sally Hawkins, of Happy-Go-Lucky fame) has received widespread praise, garnering an 80% on Rotten Tomatoes. Here's the trailer.
Available on Blu-ray? Yes.
Notable Extras: DVD & Blu-ray – Commentary with Director Nigel Cole, a Making of Made in Dagenham featurette, and outtakes.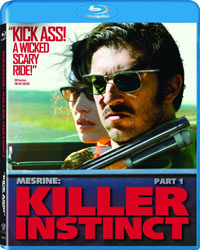 MESRINE: PUBLIC ENEMY #1
[Also available on Netflix Watch Instantly]
Part II of a two-part crime saga, Mesrine: Public Enemy #1 stars Vincent Cassel as Jacques Mesrine, the notorious French gangster who spent a good 20 years kidnapping, robbing, murdering and breaking out of prisons. It's received equally as positive a response as its predecessor. Here's the trailer.
Available on Blu-ray? Yes.
Notable Extras: None.
Other noteworthy DVD (and Blu-ray) releases this week...
Mad Men (Season 4) [DVD / Blu-ray] – All Good Things [DVD / Blu-ray] – Evangelion: 2.22 You Can [Not] Advance [DVD / Blu-ray] – IMAX: Hubble – Topsy-Turvy (Criterion Collection) [DVD / Blu-ray] – The Mikado (Criterion Collection) [DVD / Blu-ray]
Noteworthy Blu-ray-specific releases this week...
The Ten Commandments – Scream – Scream 2 – Scream 3

NOTES: Some deals may vary by store. Some deals may be in-store only. All deals are for DVDs unless otherwise noted.

$4.75 – Sixteen Candles, Napoleon Dynamite, The Usual Suspects, I Now Pronounce You Chuck & Larry
$7 – The Losers, Anchorman, Enchanted, Open Season

$24.99 – Blu-ray sale: Planet Earth (Complete Collection), John Adams (Complete Series), Smallville (Season 9)

$7.99 – Blu-ray sale: 50 First Dates, Anger Management, Casino Royale, Curse of the Golden Flower, A Few Good Men, A Knight's Tale, Maid in Manhattan, Mr. Deeds, Rocky Balboa, Stomp the Yard
$12.99 – Blu-ray sale: Get Him to the Greek, Green Zone, Inglourious Basterds, The Kids Are All Right, Public Enemies, Scott Pilgrim vs. the World, Serenity, Wanted
$16.99 – Blu-ray sale: Mad Men (Season 1 – 3)