First Looks: 'Drive' And 'Lock-Out'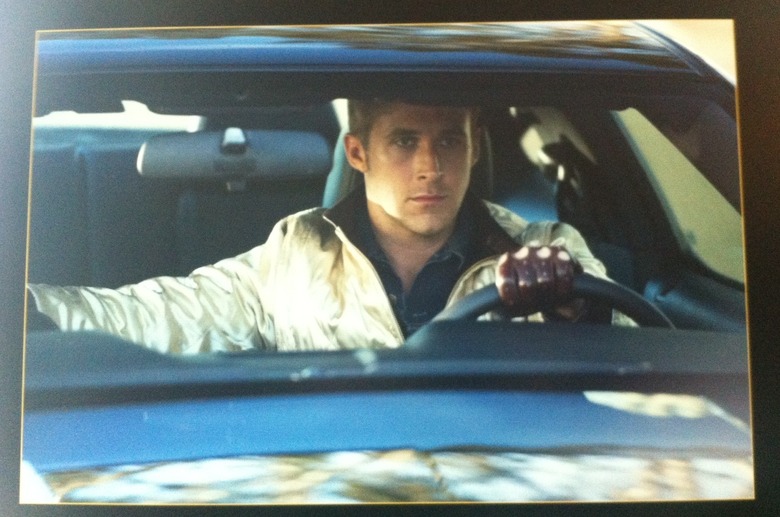 The show now known as CinemaCon, formerly ShoWest, is in full swing in Las Vegas. The marketplace is full of first looks at a great many films we'll be seeing over the next year, and we've got images from two of them. One is among my most highly-anticipated films of the year: Drive, directed by Nicolas Winding Refn and starring Ryan Gosling. (One of two images is above.) The other is Lock-Out, a sort of Taken clone in space, starring Maggie Grace and Guy Pearce. See the images after the jump.
Nicolas Winding Refn's Drive features, in addition to Ryan Gosling, Carey Mulligan, Ron Perlman, Bryan Cranston, Albert Brooks, Christina Hendricks, and Oscar Issac. It will open on September 16, 2011.
Hollywood stunt driver by day (Ryan Gosling), a loner by nature, moonlights as a top-notch getaway driver-for-hire in the criminal underworld. He finds himself a target for some of LA's most dangerous men after agreeing to aid the husband of his beautiful neighbor, Irene (Carey Mulligan). When the job goes dangerously awry, the only way he can keep Irene and her son alive is to do what he does best—Drive!
We haven't heard much about Lock-Out since it was announced last summer, but it has a script by Luc Besson and co-directors James Mather and Stephen St. Leger.AS far as we know, Guy Pearce is "a man wrongly convicted of conspiracy to commit espionage against the U.S. He's offered his freedom if he can rescue the president's daughter from an outer space prison taken over by violent inmates" Maggie Grace is the daughter.