'World War Z' Appears To Have New Life At Paramount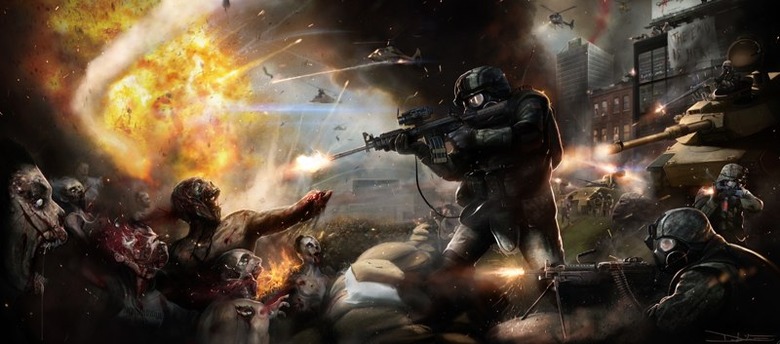 There are a hell of a lot of zombie movies coming in the next year or two — so many that it almost seems ridiculous to get excited over one more. But when that one is an adaptation of a well-liked novel and has Brad Pitt set to star, it's a different story. The film adaptation of Max Brooks' novel World War Z was recently said to be nearly dead, but now may have financing set, and is gearing up to shoot as soon as June.
Let's skip right over the obvious joke about a zombie movie coming back to life and get to the details. Skydance Productions, that being the company headed by David Ellison, who was a key financier for Paramount films True Grit and Mission: Impossible – Ghost Protocol, is the possible savior. The company's involvement has been possible over recent weeks, and Deadline reports Mr. Ellison and "as many as two other financiers" are seriously in talks to finance the film, which is quickly gearing up to shoot. (Paramount holds a short and expensive option on the film — the company's second option on it — so likely wants to move on it fast, especially if Brad Pitt is still willing to sign.)
Marc Forster is still set to direct. Will this still be a PG-13 affair, which was recently reported as a key factor? Right now we don't know, but it still seems likely.
(But if Sucker Punch can be PG-13 and still be rife with creepy overtones of sexual threat, coercion and rape, then this movie might work as a PG-13, too.)
David and his sister Meghan Ellison are becoming two of the most important financiers in the business. He's working closely with Paramount andin addition to the films mentioned above is also set to pay for a big chunk of the Top Gun sequel, should it happen. Meanwhile, her Annapurna Productions is more on the arthouse side of things, with financing being devoted to films like Inherent Vice, The Master and The Wettest County in the World.