'True Legend' Trailer – 'Drunken Master' Helmer Yuen Woo-Ping Returns To The Director's Chair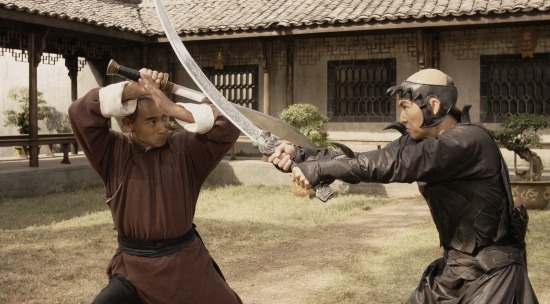 A new trailer has just been released for True Legend, an upcoming film by influential director and fight choreographer Yuen Woo-ping. Yuen made his name as a director back in the '70s with movies like Drunken Master, but has recently focused more on action choreography, for films including The Matrix, Crouching Tiger, Hidden Dragon, Kill Bill and Kung Fu Hustle. True Legend is his first directorial effort since 1996. As you might guess, it is a martial arts actioner.
Vincent Zhao (Once Upon a Time in China), Zhou Xun, Jay Chou (Kato from The Green Hornet), Michelle Yeoh and David Carradine all star. Watch the trailer after the jump.
The action in this trailer does indeed remind me of the stuff we've seen in his recent choreography work, and that's a good thing — it looks like great fun. As for the plot, which appears to revolve around two brothers destined to fight each other, it should lend itself very well to both action/violence and drama. If I have one complaint, it's that that weird Hulk moment toward the beginning looks laughably cheesy. I don't doubt that the fight sequences will be fantastic, but it's been a while since Yuen directed a film. I'm hoping his skills on that front aren't too rusty.
Here are the synopsis, via The Film Stage:
Yuen Woo Ping (The Matrix trilogy, Kill Bill Volumes I and II, Crouching Tiger, Hidden Dragon and Hero) brings you True Legend, a heart pounding epic about the timeless battle between good and evil. Su Can's (Vincent Zhao) respectable life is obliterated when his vengeful brother, Yuan (Andy On), returns from war armed with the deadly Five Venom Fists. Weakened but not destroyed, Su Can learns a never-before-seen form of martial arts: the Drunken Fist. Armed with this new power, he returns home to honor his family through retribution by taking on his brother in a battle to become the ultimate warrior. Packed with distinct fighting styles–including MMA, knife combat and sweeping aerial stunts– and starring martial arts legends Michelle Yeoh, David Carradine and Jay Chou.
The film is scheduled to open in the U.S. May 13, 2011 — in 3D.