First Look: 'Now,' 'We Bought A Zoo,' 'The Descendants,' A 'Rise Of The Apes' Ape And Many More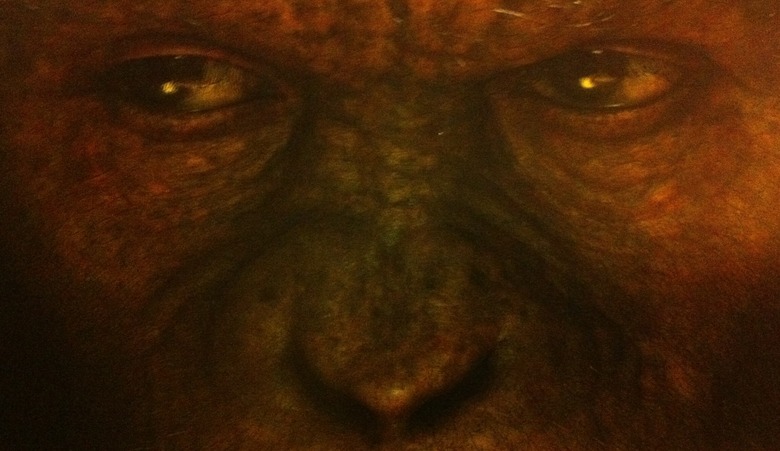 Cinema Con, formerly known as ShoWest, is currently going down in Las Vegas and in addition to screening a ton of footage from upcoming movies, many studios are premiering photos and posters from their upcoming films. 20th Century Fox, for example, created a calendar for the event and it provides our first look at several of their upcoming movies including Cameron Crowe's We Bought a Zoo, Alexander Payne's The Descandants, Andrew Niccol's Now, David Gordon Green's The Sitter, David Frankel's The Big Year and more. Plus, though we've already seen one image from Rise of the Apes, we now have our first official look at one of the title characters. Check all these images out below.
/Film editor Peter Sciretta took these images at CinemaCon. Click on each for a bigger version.
Here's all the basic info on all of the movies you see above.
Rise of the Apes, directed by Rupert Wyatt, stars James Franco, Frieda Pinto, John Lithgow and Andy Serkis. It opens August 5.
The Descendants, directed by Alexander Payne, stars George Clooney, Judy Greer and Matthew Lillard. It opens December 16.
We Bought a Zoo, directed by Cameron Crowe, stars Matt Damon, Scarlett Johansson and Elle Fanning. It opens December 23.
Now, directed by Andrew Niccol, stars Justin Timberlake, Amanda Seyfried and Cillian Murphy. It opens October 28.
The Big Year, directed by David Frankel, stars Owen Wilson, Jack Black, Steve Martin and more. It opens October 14.
The Sitter, directed by David Gordon Green, stars Jonah HIll, Sam Rockwell and Ari Graynor. It opens December 9.
Monte Carlo, directed by Thomas Bezucha, stars Selena Gomez, Cory Monteith and Leighton Meester. It opens July 1.
Hopefully Fox releases the high res versions of some of these images soon, especially the Rise of the Apes image. Even from this small image, though the CGI by Weta looks incredible and I'm very much looking forward to seeing it in motion. However, I was under the impression the apes were going to be more simian like but this image looks decidedly more human. What do you all think?