Universal Picks Up Oliver Stone's 'Savages,' Cans Kenny Ortega's 'In The Heights'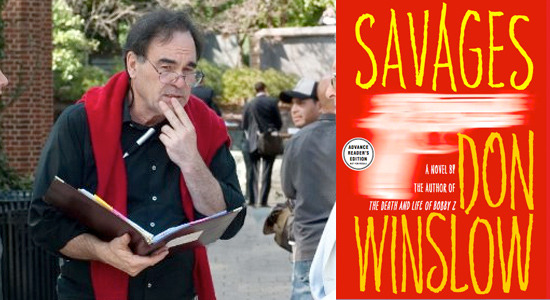 Oliver Stone's adaptation of the novel Savages, in which two pot-dealing friends are roped into working for the drug cartel that kidnaps their young female companion, is becoming a hot property. The combination of a young cast, a long-established major director and lively material tends to do that. Multiple studios were in contention for distribution rights, and Universal has taken the brass ring.Aaron Johnson and Taylor Kitsch are the leads; Benicio Del Toro and Salma Hayek are looking like the two key cartel characters, and multiple actresses are reading for the role of the female friend. Blake Lively, Abbie Cornish & Teresa Palmer are all said to be possible names, though Deadline also says Oliver Stone might go with a 'discovery.' Oliver Stone, Shane Salerno and novel author Don Winslow are working on the script now.
After the break,  a total change of gears: a Universal film based on the musical In the Heights is no longer happening, for the moment.
Universal will no longer make a film based on the Broadway musical In the Heights. This Is It director Kenny Ortega was set to direct, but now thanks to a combination of a high budget and the need for an all-Latin cast, something the studio sees as niche, the film isn't happening. Deadline says that the idea was to offset the budget by putting high-profile Latin actors in some small key roles, but that didn't come together. So: poof.
Lin-Manuel Miranda, creator of the musical, said,
I have had nothing but a positive experience with Universal Pictures. We weren't able to make the film version of In The Heights together, but I'm looking forward to working with them in the near future. Moving forward, I'm excited to explore other options to make the In The Heights movie a reality.
Other studios and companies can take a crack at the property, and there is a good chance that someone else will be able to come up with a version that costs less than what Universal was planning. [Deadline]