New 'Tree Of Life' Poster; Will Premiere In UK Before Cannes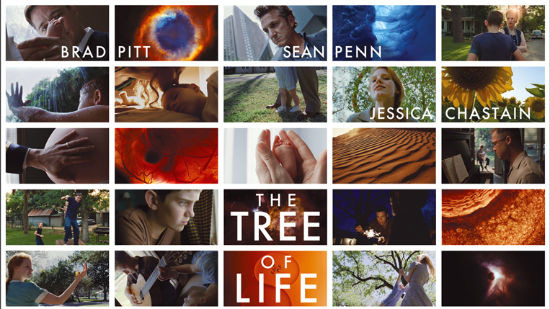 Fans who are anticipating The Tree of Life, Terrence Malick's first film since 2005's The New World, have a beautiful new image to dissect to their heart's content. The Internet Movie Database has premiered a stunning new mosaic theatrical poster for the Fox Searchlight release and, much like the first trailer, it's full of gorgeous and mysterious images including planets, fires and, yes, a dinosaur.
Set for release in the United States on May 27, Malick's film – starring Brad Pitt, Sean Penn and Jessica Chastain – was thought to have its world premiere at the Cannes Film Festival. However, Empire is now reporting that it'll premiere in the United Kingdom May 4, a full week before before the world's most prestegious film festival even begins. Read more about that and see the full poster after the break.
Thanks to the IMDB for this poster. Click on the image for the larger version.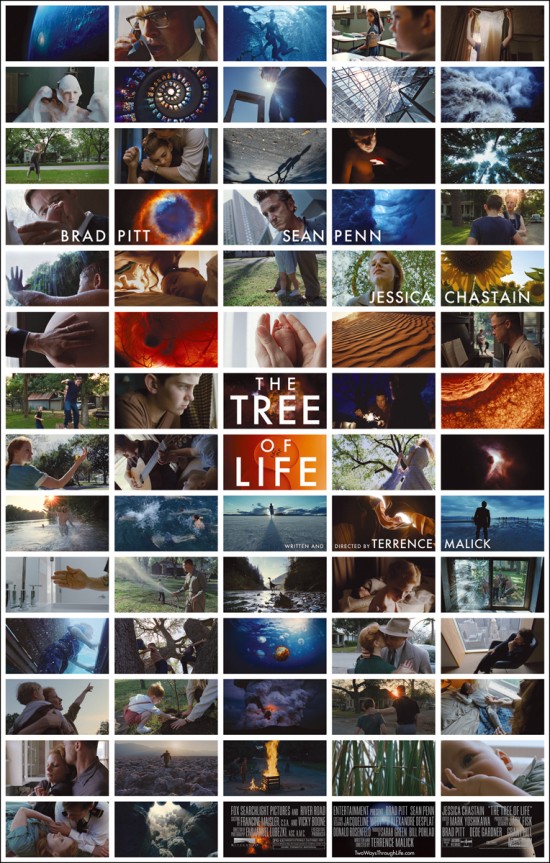 Empire exclusively announced the UK release date for the film and then several writers, such as Anne Thompson at Indiewire, pointed out the Cannes problem.
Here's an official description of the film:
From Terrence Malick, the acclaimed director of such classic films as Badlands, Days of Heaven and The Thin Red Line, The Tree of Life is the impressionistic story of a Midwestern family in the 1950's. The film follows the life journey of the eldest son, Jack, through the innocence of childhood to his disillusioned adult years as he tries to reconcile a complicated relationship with his father (Brad Pitt). Jack (played as an adult by Sean Penn) finds himself a lost soul in the modern world, seeking answers to the origins and meaning of life while questioning the existence of faith. Through Malick's signature imagery, we see how both brute nature and spiritual grace shape not only our lives as individuals and families, but all life.
And for anyone expecting a traditional look at "the tree of life," you've got another thing coming. A source of Thompson's gives the following mini-review:
It's a mystical exploration of the meaning of life, a journey in which a microcosm of a family mirrors the world; the differences between man and woman, husband and wife, are mirrored against nature and grace. It will change the language of movies. It's a real event. People will say, 'what the fuck is this?'
Sounds awesome. What do you think of the poster? Is that a dinosaur two panels below the world "life?"