Page 2: Star Trek, Avatar 2, Teenage Mutant Ninja Turtles, Top Gun, Alien, Hanna, My Neighbor Totoro, Masters Of The Universe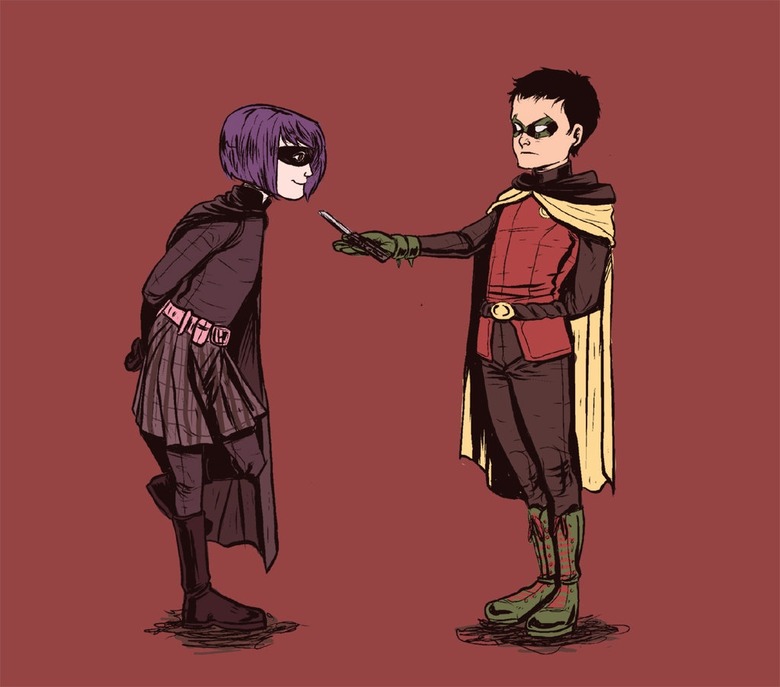 After a week off, we have returned!
What is Page 2? Page 2 is a compilation of stories and news tidbits, which for whatever reason, didn't make the front page of /Film. After the jump we've included 46 different items, fun images, videos, casting tidbits, articles of interest and more. It's like a mystery grab bag of movie web related goodness. If you have any interesting items that we might've missed that you think should go in /Film's Page 2 – email us!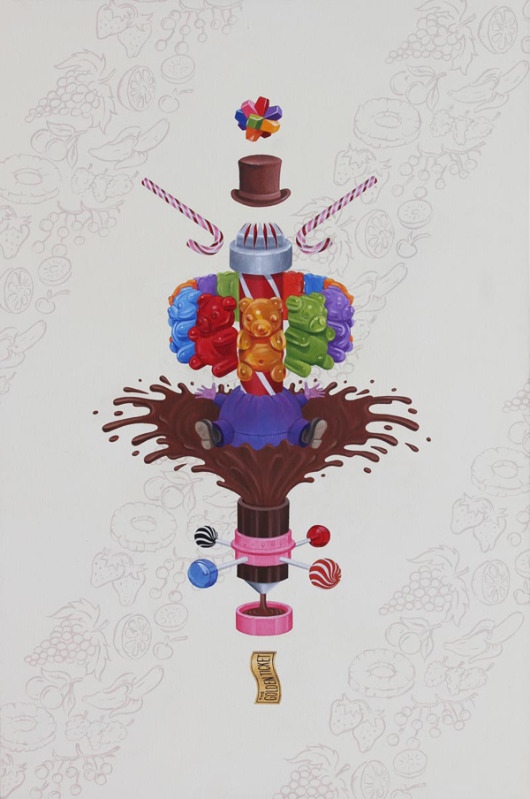 Australian artist Michael Steele's Willy Wonka-inspired art.
Erin Carufel has been cast opposite Amanda Seyfried in Lakeshore Entertainment's upcoming thriller Gone.
Watch the 160 Greatest Arnold Schwarzenegger Quotes.
Leonard Nimoy defends the new Star Trek movie universe: "I think the alternate universe was necessary. I think it was a very solid idea and necessary because, although it broke canon in a certain kind of way, if they didn't do the alternate universe, they would have broken canon in other ways. It was constricting. There was so much history to be dealt with that if they did not do the alternate universe it would have been so constricting and it would have been very, very difficult to tell an exciting story without stepping on some toes somewhere. So, by doing it this way, I think they gave themselves a new canvass to work with. I think it was a very wise idea."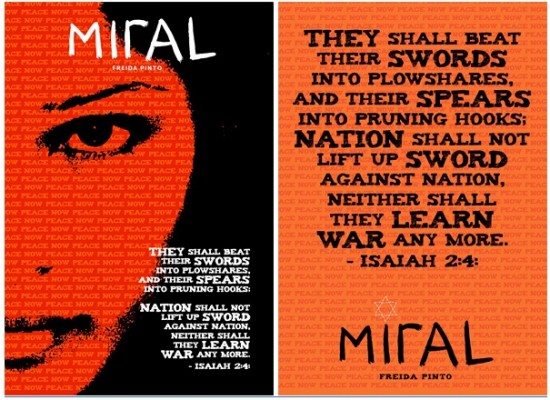 Check out the movie posters for Julian Schnabel's Miral, starring Freida Pinto.Kung Fu Panda 2 will open the Taormina Film Festival.
Here is a fist look at Will Ferrell's upcoming four-episode appearance on NBC's The Office.
Saiorse Ronan on the possibility of appearing in Peter Jackson's The Hobbit: "Pete is adding a lot of characters in the film adaption," she said. "Hopefully they have a part for me."
ThinkGeek is selling a Star Trek energy drink called Romulan Ale.
Netflix is offering a 3% rebate on its $7.99 a month plan after going down last week.
Due to the amount of graphics and images included in Page 2, we have to split this post over a BUNCH pages. Click the link above to continue the second page of Page 2.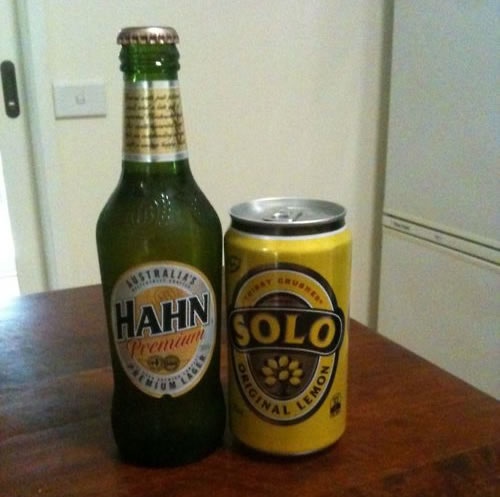 Han Solo's favorite beer brands.Woody Harrelson will play Steve Schmidt, McCain's senior campaign strategist and advisor in the upcoming HBO movie Game Change.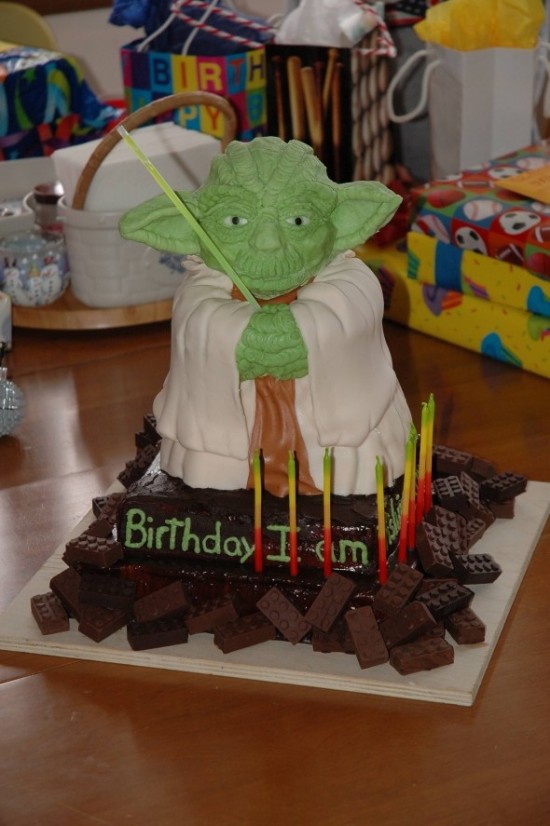 A Yoda cake.
Martin Scorsese will curate the Port Eliot Film Festival.
Watch a cool CGI breakdown from Mrs Peppercorns Magical Reading Room done by IllusionVFX.
Coed Magazine lists 8 Movie Freakouts That Would Make Nic Cage Proud.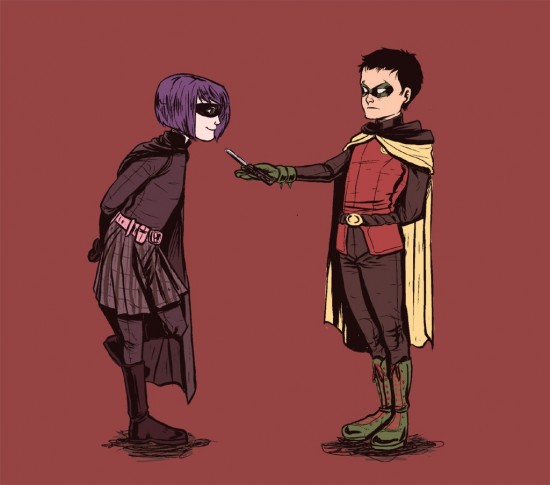 Lebmat de Quevedo imagines what it would look like if Robin met Hit Girl, in an illustration titled "We're all Fucked Now."
Maya Rudolph is reuniting with Saturday Night Live boss Lorne Michaels, on ex-SNL writer Emily Spivey's comedy pilot.
What Teenage Mutant Ninja Turtle are you?
Movie Theaters are "fuming about proposed federal rules that could require them to disclose the calories in their concession food — including popcorn, a highly profitable item for theater chains."
Due to the amount of graphics and images included in Page 2, we have to split this post over a BUNCH pages. Click the link above to continue the third page of Page 2.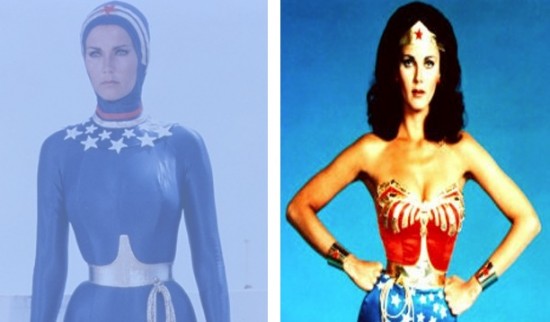 Wonder Woman Costume Through The Years : A Comicbook HistoryJulian Schnabel talks to Rotten Tomatoes about his five favorite movies: Andrei Rublev, The Battle of Algiers, The Godfather 1 and 2, Raging Bull, and The 400 Blows.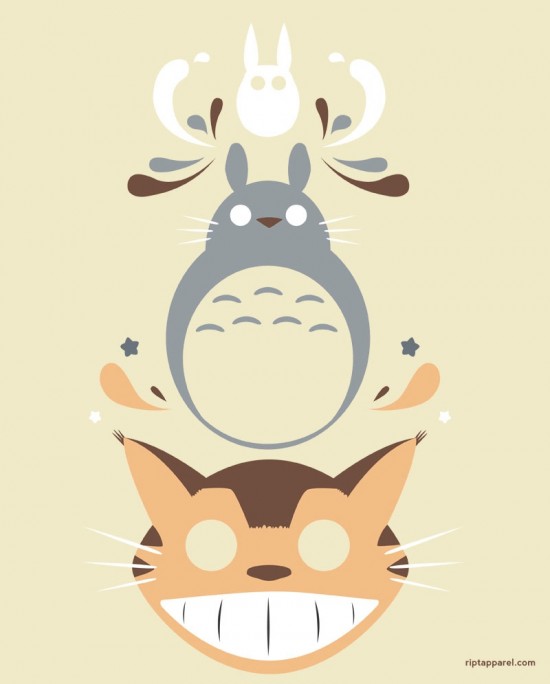 Today's T-shirt of the day on RIPT Apparel is "Totoro And Friends".
Vulture lists Seven Other Book Adaptations That Should Be Remade As Mini-series
In a new edition of Trailers From Hell, Joe Dante provides commentary for the movie trailer for Dime With a Halo, an offbeat B-picture that slipped through the cracks.
ScriptShadow lists 10 Screenwriting Tips You Can Learn from The Breakfast Club.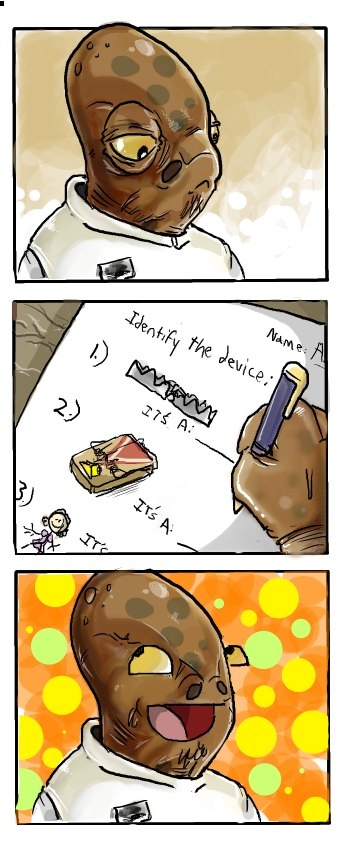 CousinWoofer's Star Wars-inspired comic strip "Ackbar's Admiral Exam."Johnny Whitworth talked to ShockTillYouDrop about playing the villain Blackout in Ghost Rider: Spirit of Vengeance: "got to be a comic book character. I mean that's part of the partial reason why I got into- not to be a comic, but the things that inspired me as a youngster, the things and the things that I was into, one being comics and of that nature and pretend and that's the ultimate way. Because he's bad and I get to be even extra bad. So I'm human and then I turn into Blackout and then he's bad and then he's just horrible."
The latest entry in Scott C's Greatest Showdowns series is a Mannequin-tribute.
Stephen Lang recently met with James Cameron: "I had dinner with him about a month ago. We spent the evening together and we talked about it. I know he's proceeding and I have no doubt that Avatar 2 is going to be great and every bit as jaw-dropping and exciting as Avatar was. As to my own relationship to it, I can't really say anything about that, at all, other than I'm just proud to be on the team. Whether I appear in Avatar 2 or Avatar 3, I always feel I'm a part of the Avatar team. I know that's a non-answer, but that's it."
Due to the amount of graphics and images included in Page 2, we have to split this post over a BUNCH pages. Click the link above to continue the fourth page of Page 2.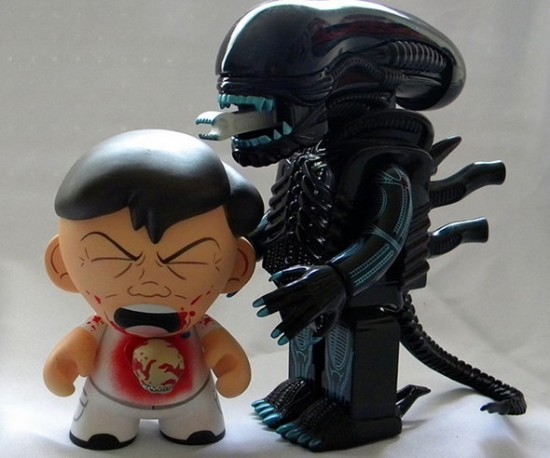 Jonas Britt created this awesome custom Kane chestburster Alien figure out of a blank Munny figure from Kidrobot.
Edward Furlong and Shirly Brener have landed the lead roles in a supernatural thriller titled Stitch.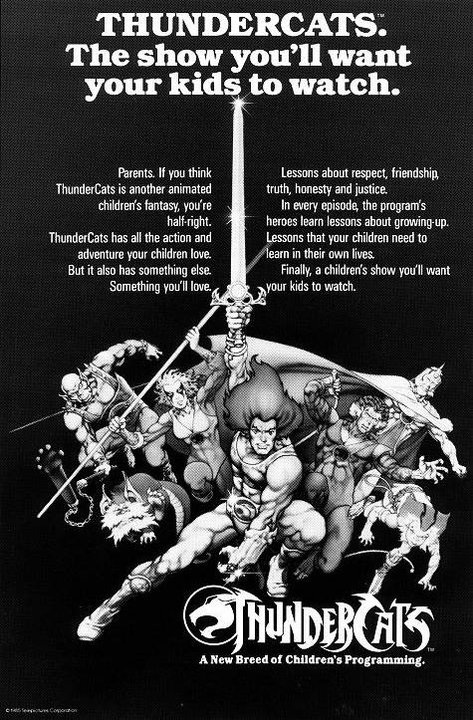 Check out this strange advertisement for Thundercats from the 1980's marketed towards parents.
IO9 tries to figure out which is the best movie and tv streaming service: Hulu or Netflix (spoiler alert: Nertflix wins).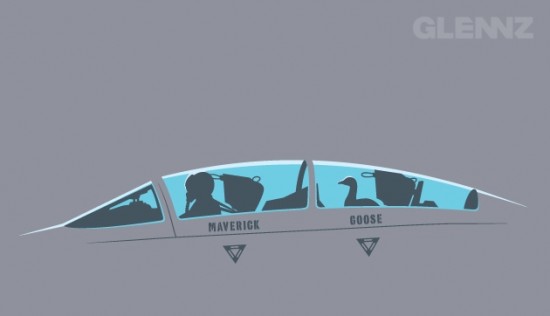 Glennz is selling a Top Gun-parody t-shirt design titled "Talk to me goose."GeekTwins lists 10 Best Sci-fi Shows Canceled After One Season.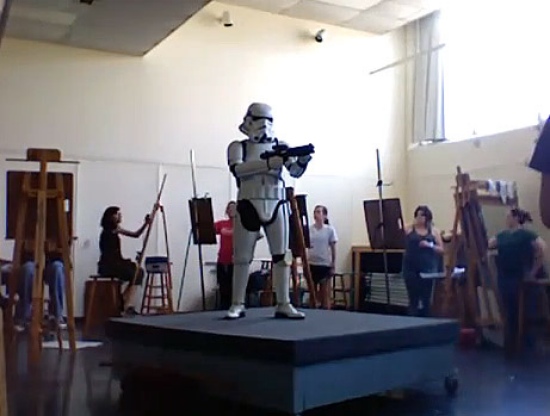 POTD: Stormtrooper poses for art school students.
Roger Ebert explains why, sometimes, wif you see a boom mic on the top of the movie screen, its not the filmmaker's fault, but the projectionist's.
Badminton with liughtsabers.
Blockbuster is shuttering 186 stores, including 15 in California.
Due to the amount of graphics and images included in Page 2, we have to split this post over a BUNCH pages. Click the link above to continue the fourth page of Page 2.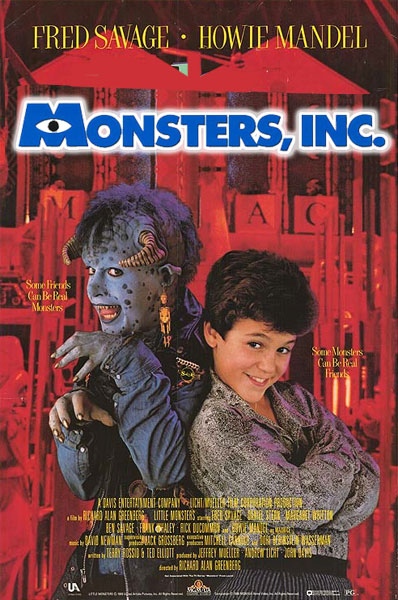 BuzzFeed lists 11 Hilarious Swapped Movie Titles
The working shooting title for Superman: The Man of Steel is "Autumn Frost".
Watch some behind the scenes b-roll footage from the making of Hanna.
A California judge has ruled in favor of Warren Beatty over the right to make movies and TV shows using the comic book crime fighter Dick Tracy.
Nathan Rosario has re-imagined Castle Grayskull in this piece of Masters of the Universe fan art.
FilmDrunk has confirmed that, yes, that is actually Natalie Portman's butt in Your Highness, not her strunt or dance double's.