Cool Stuff: Edward Scissorhands 20th Anniversary Art Tribute Show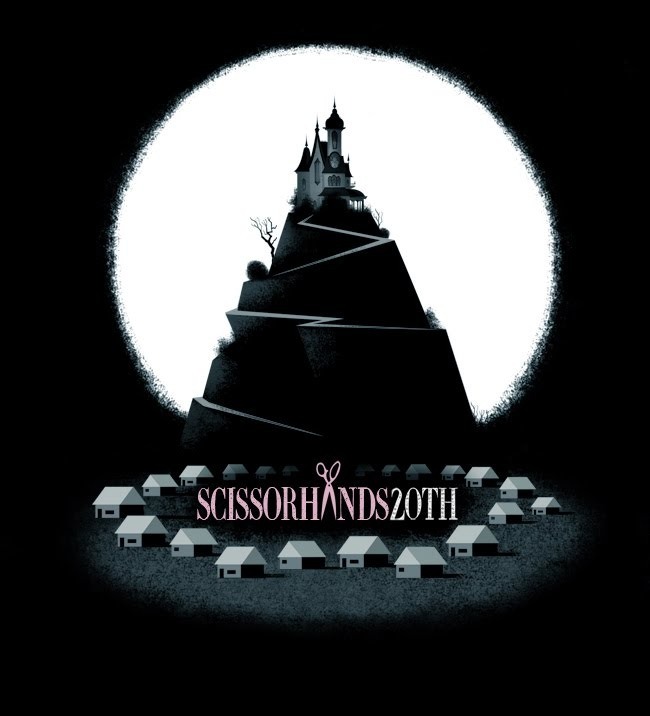 On April 16th 2011, Gallery Nucleus will host a 20th anniversary tribute to Tim Burton's Edward Scissorhands. The art exhibition will" highlight the works of over 40 artists, including paintings, drawings, prints, sculptures, etc." Read the press release after the jump, along with a gallery of sample art from the exhibition.
Sample Gallery:
Press Release:
Gallery Nucleus Presents:
EDWARD SCISSORHANDS 20TH ANNIVERSARY TRIBUTE
April 16, 2011 – May 09, 2011
Opening Reception: April 16, 2011(7 pm – 11 pm)
On April 16, Gallery Nucleus transforms into the mystical world of Edward Scissorhands as we host an exhibition to tribute Tim Burton's classic love story and its unforgettable characters; Edward, Kim, Peg and a band of colorful suburbanites.
It was twenty years ago that the public was introduced to the modern-day fairy tale Edward Scissorhands. Though the story of an outcast or "freak" misunderstood by "normal" society is nothing new, this brilliantly designed film with the sweetness and sadness of romantic love coupled with Gothic overtones resonated deeply with audiences and injected beauty and enchantment into the familiar.
The curatorial online project Scissorhands 20th created by artist Sebastien Mesnard, is an ongoing online blog that features the work of artists from across the globe, creating works inspired by the story and its' characters and executed through the artists own unique approach. In collaboration with Sebastien Mesnard, Gallery Nucleus will be showcasing a selection of original works from the Scissorhands 20th blog. The exhibit will highlight the works of over 40 artists, including paintings, drawings, prints, sculptures, etc. and unite enthusiasts and fans in celebrating the 20th anniversary of Edward Scissorhands and Tim Burton's unparalleled creative vision.
Opening Reception highlights include:
Free refreshments and ambrosia served.
5 Free raffle tickets for those dressed in their best Scissorhands-inspired attire. (Tickets can also be purchased for $2.00 each)
Raffle prizes includes original artwork, Anniversary Edition Edward Scissorhands DVD, Avon gifts, and Nucleus gift certificates.
Gifts and samples provided by "Avon Lady" (Johanna Figueroa).
This is an all ages event
Admission is free.
Artists Featured:
Alina Chau, Amelie Fléchais, Andrea Kalfas, Aurian Redson, Aya Miyazaki
Becky Dreistadt, Benjamin Lacombe, Bill Robinson, Bob Doucette, Brigette Barrager, Brittney Lee, Celine Loup, Chuck Groenink, Cory Godbey, Daniela Volpari, Dan Thompson, Dave Perillo, Denny Khurniawan, Drake Brodahl, Drazen Kojan, Emmanuelle Walker, Eren Blanquet, Graham Annable, Israel Sanchez, Jason Caffoe, Jérémie Fleury, Jerrod Maruyama, John Kenn Mortensen, Josh Parpan, Joyce Colson, Justin Parpan, Ken Garduno, Ken Turner, Laura Iorio, Lilidoll, Lorelay Bové, Lorena Alvarez, Luisa Uribe, Marietta Ren, Martin Hsu, Mindy Lee, Nicolas Léger, Pascal Campion, Robert Kondo, Roberto Ricci, Seo Kim, Uli Meyer, Vincent Ehrhart-Devay, Xander (Alex) Leighton, Xavier Collette ..and many more!
For more information, please see: