MGM Gets Rolling On A 'Child's Play' Remake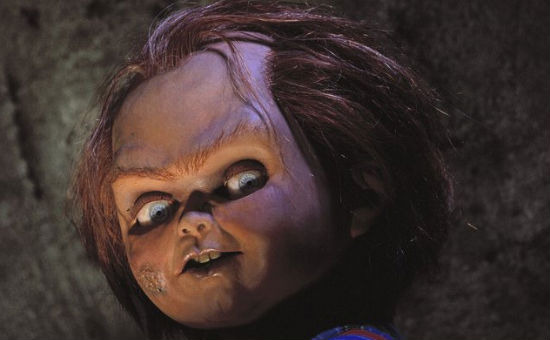 We've seen reboots of The Texas Chainsaw Massacre, Halloween, A Nightmare on Elm Street and Friday the 13th so it only makes sense that next up is Child's Play. The horror franchise featuring the iconic killer doll named Chucky began in 1988 and spawned four sequels that took the character into increasingly wacky and off-beat territory. Back in 2007, rumors began to circulate about a remake and now, according to Movieweb, a rights issue between MGM (who released the first film) and Universal (who released the sequels) has been ironed out and MGM is moving forward with a less comedic, more dark reboot of the franchise. Brad Dourif has been confirmed to return as the voice of Chucky, working from a screenplay by franchise brainchild Don Mancini, who could possibly return to direct. Read more about the film, which is aiming for a 2012 release, after the jump.
According to Movieweb, who first reported this news, now that the rights issues between MGM and Universal have been figured out, they're hoping to go into production later this year. The site spoke with Mancini, who not only wrote all five films, but produced the fourth (Bride of Chucky) and directed the fifth (Seed of Chucky), a few years back and explained his vision for the remake:
That's really our goal with this next movie, bottom-line, was to make it scary again. After having, I think, rather successfully mined the horror-comedy aspects of this concept over the course of Bride of Chucky and Seed of Chucky, the fans are really telling us that they want it to be scary again. Doing the remake just provides us with a really good opportunity to bring it home, so to speak.
It is true that the last two films were pretty campy but the first film still remains frightening on some levels. It will be interesting to see how the story will need to evolve in a world where technology has replaced doll's on many kid's wish lists.
David Kirschner, who'll produce the film, said that the script is not at all what people are expecting:
I don't want to give away too much. I've known Don for 22 years. We're dear friends. I know his humor, I know his mind. I was so shocked with where he was taking us with expectations of the first film and pulling the rug out from under us. It was exciting and really frightening and exhilarating to hear, as opposed to just shooting a frame-for-frame, but really subverting audiences expectations.
Do you think Child's Play deserves a reboot like the other classic horror franchises? Do you even think it's a classic horror franchise?