Casting Bits: Rashida Jones And Andy Samberg In 'Celeste And Jesse,' Dwayne Johnson In 'Snitch'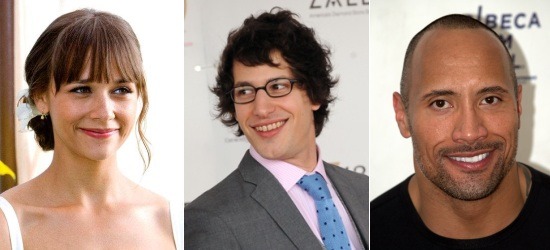 Since the beginning of his career, Dwayne Johnson has rotated between action roles, comedy roles, and family roles. His latest project will fall solidly into the "action" part of his resume. Johnson has signed on to star in Snitch, directed by Ric Roman Waugh (Felon).
The script was written by Justin Haythe (Revolutionary Road), with a rewrite by Waugh. Johnson will play a father who goes undercover to help catch a drug dealer when his son is falsely imprisoned for drug dealing. Although the script sounds like typical action fare, it's actually based on a Frontline documentary about anti-drug laws. How closely it follows true events remains to be seen, but considering that the real story doesn't sound all that much like an action thriller, I'm guessing not very.
Johnson's next onscreen appearance will be in Fast Five next month, and he is currently working on Journey 2: The Mysterious Island. [Deadline]
After the jump, Rashida Jones finds an ex-husband in Andy Samberg for her breakup comedy Celeste and Jesse Forever.
Jones has said that she wrote the script partly as a response to male-driven romcoms like the ones by Judd Apatow and his acolytes:
It's hard to find female leads that are flawed and interesting and dynamic. We wanted to write something that was in the vein of Judd Apatow—you talk like you actually talk with your friends—but with ladies... I want to do that and not just be someone's girlfriend or wife. I want to be the one to go on the journey.
Between this film and the upcoming Bridesmaids, it's looking like a good time for female-centric comedies.
Jones is currently starring in Monogamy alongside Chris Messina, and has four more films lined up for this year: Friends with Benefits, The Big Year, My Idiot Brother, and The Muppets. Samberg's next films will be What's Your Number, starring Anna Faris, Chris Evans and Zachary Quinto, and Friends with Benefits, which also features Jones. [24 Frames]