Disney Still Considering Making 'Peter And The Starcatchers'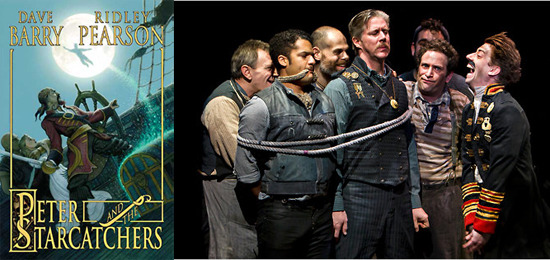 We may receive a commission on purchases made from links.
Not one to be left out of an emerging trend, Disney big boss Bob Iger said yesterday that the studio is looking into moving forward with a film adaptation of Peter Pan prequel Peter and the Starcatchers, based on the 2004 kids' novel by Dave Barry and Ridley Pearson. More details follow.
The Wrap reports from a Disney shareholders meeting where Mr. Iger said the studio was looking into the property again:
We considered making [it] a movie. We haven't made a decision on that yet.
Disney optioned the book some time ago, and actually commissioned a screenplay. And Disney also commissioned a play, which ran in LA and is now off Broadway in New York City. The stage version is actually getting some solid reviews. Via the Wrap comes this NYT rave:
Or any big-stage equivalent, for that matter. Adapted by Rick Elice from Dave Barry and Ridley Pearson's popular children's novel of 2004, "Peter and the Starcatcher" sustains a breathless air of adventure and a cocky confidence in its powers to enchant that elude most family oriented spectacles now on Broadway, including hits like "Wicked" and "Mary Poppins." In relating the back story of how a sullen, skeptical orphan became the eternal boy known as Peter Pan, "Starcatcher" celebrates the leap of faith that occurs when we tell and believe improbable tales... It seems apt, then, that leaping should be a major physical activity in this untiringly energetic production, which follows various heroic, evil and still-undecided characters on a tempest-tossed ocean voyage from England to a mysterious island.
That's better sounding than most of the other five Peter Pan-related films or projects we know to be in development. Here's the Amazon review of the 2004 novel upon which this would be based:
Humorist Dave Barry and suspense writer Ridley Pearson have clearly taken great delight in writing a 400-plus page prequel of sorts to Scottish dramatist J.M. Barrie's beloved Peter Pan stories. The result is a fast-paced and fluffy pirate adventure, complete with talking porpoises, stinky rogues, possible cannibals, a flying crocodile, biting mermaids, and a much-sought-after trunk full of magical glowing green "starstuff." Ever hear of Zeus? Michelangelo? Attila the Hun? According to 14-year-old Molly Aster they all derived their powers from starstuff that occasionally falls to Earth from the heavens. On Earth, it is the Starcatchers' job to rush to the scene and collect the starstuff before it falls into the hands of the Others who use its myriad powers for evil.
On board the ship Never Land, an orange-haired boy named Peter, the leader of a group of orphaned boys being sent off to work as servants in King Zarboff the Third's court, is puzzled by his shipmate Molly's fantastical story of starstuff, but it inextricably binds him to her. Peter vows to help his new, very pretty friend Molly (a Starcatcher's apprentice) keep a mysterious trunk full of the stuff out of the clutches of the pirate Black Stache, a host of other interested parties, and ultimately King Zarboff the Third. The downright goofy, modern 8-year-old boy humor sometimes clashes with an old-time pirate sensibility, and the rapid-fire dialogue, while well paced, is far from inventive. Still, the high-seas hijinks and desert-island shenanigans will keep readers turning the pages.