/Film Boston: Boston Underground Film Festival Begins Tonight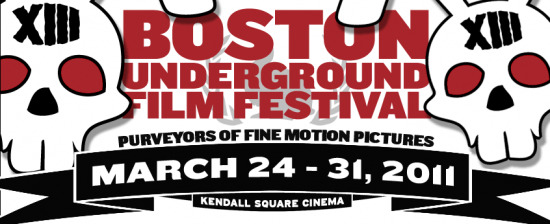 Spring is a great time for movie lovers who live in New England. Not only does old man winter seem finally on the cusp of relinquishing his cold, hard death grip on the region, but there are a couple of interesting film festivals taking place. For example, The Boston Underground Film Festival begins tonight, and brings with it some awesome screenings, Q&As, and events. Hit the jump for the full schedule.
The highlights of BUFF for me this year are unquestionably Hobo with a Shotgun (see Germain's review from Sundance) and The Woman (which prompted this angry reaction when it debuted), BOTH of which will feature their directors in attendance. But as usual, BUFF has put together some very diverse offerings, many of which look unbelievably f__ked up. If you're a lover of subversive, marginal, underground cinema, I think you'll probably find some good stuff this year. Here's the BUFF's full schedule, with all screenings being held at the Kendall Square Theater (some screenings also held at the Coolidge; check out their website for details):
THURSDAY MARCH 24
7:00pm Hobo With a Shotgun
9:00pm Opening Night Party
FRIDAY MARCH 25
5:15pm L'amour la mort (or Coupling is Hell)
5:30pm BUFF Family Values
7:00pm J. Cannibal's Tapas of Terror
7:30pm Machete Maidens Unleashed!
9:30pm The Woman
9:45pm Twilight People
10:00pm Machete Maidens Unleashed Party
11:55pm Wound*
11:55pm Midnight Transgressions*
SATURDAY MARCH 26
12:15pm OMFG LMAO!
12:30pm Illustrated Oddities
2:15pm Psychedelicinema
2:30pm Frankie in Blunderland
4:30pm The Corridor
5:00pm Where the Music's At
7:00pm Luster
7:15pm A Horrible Way to Die
9:00pm Cold Fish
9:15pm Chop
10:00pm Kaiju Karaoke Party
11:55pm Profane*
11:55pm Helldriver
SUNDAY MARCH 27
12:00pm CineMental Gets BUFF
12:15pm Son of God
2:15pm Future Imperfect
2:30pm Lucid Dreaming
4:15pm Atomic Brain Invasion
4:30pm Satan Hates You
6:30pm The Dead Inside
7:00pm The Beast Pageant
9:00pm Phase 7
10:00pm Closing Night Party
MONDAY MARCH 28
3:30pm Future Imperfect
5:30pm BUFF Family Values
5:45pm OMFG LMFAO!
7:30pm Luster
7:45pm Machete Maidens Unleashed!
9:30pm Twilight People
9:45pm A Horrible Way to Die
TUESDAY MARCH 29
3:30pm CineMental Gets BUFF
5:30pm Where the Music's At
5:45pm Lucid Dreaming
7:15pm The Corridor
7:30pm Chop
9:30pm Helldriver
9:45pm Profane*
WEDNESDAY MARCH 30
3:30pm Psychedelicinema
5:30pm L'amour la Mort (or Coupling is Hell)
5:45pm Frankie in Blunderland
7:15pm Atomic Brian Invasion
7:30pm J. Cannibal's Tapas of Terror
9:30pm Cold Fish
9:45pm Midnight Transgressions*
THURSDAY MARCH 31
5:30pm Son of God
5:45pm Illustrated Oddities
7:15pm The Beast Pageant
7:30pm The Dead Inside
9:30pm Satan Hates You
9:45pm Phase 7