'Rise Of The Apes' Moves Again, This Time To August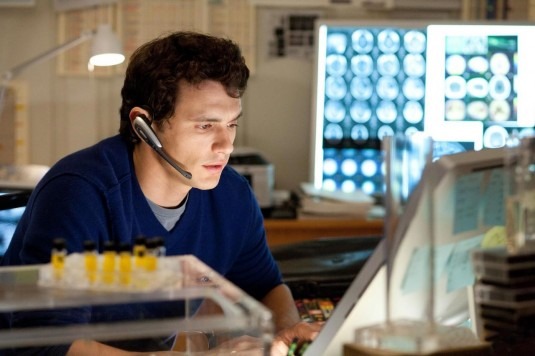 20th Century Fox continues to play release date roulette with its Planet of the Apes prequel, Caesar: Rise of the Apes. Originally scheduled for a June release, Fox first moved the film out of that busy month to Thanksgiving. But as other movies began to stack up against it there too, the studio has now decided to move the prequel back into the summer. Rise of the Apes, starring James Franco and directed by Rupert Wyatt, will now be released on August 5 where it will go up against The Smurfs, The Darkest Hour and The Change-Up. Fox previously had a film scheduled for that date, David Gordon Green's comedy The Sitter, with Jonah Hill and Sam Rockwell, but that's now bumped till December 9. Read more about the this change after the break.
The news of the release date change was first reported by Box Office Mojo. The 20th Century Fox Corporate Twitter also commented saying the following:
RISE OF THE APES moves up from November 23, 2011, to August 5, 2011 — last big event movie of the summer.
That's not exactly the case. After August 5 the summer still holds Fright Night, Spy Kids 4, 30 Minutes or Less and Final Destination 5, but Apes has certainly become the highest profile film in August.
Odds are Rise of the Apes – which tells the story of how one doctor's actions ended up turning Earth into the Planet of the Apes – originally felt pretty comfortable in its Thanksgiving release date because it was the only family friendly adventure film opening. Once Paramount moved Martin Scorsese's Hugo Cabret from December into that slot, however, Fox probably felt like the two films could cannibalize each other's audiences and decided to push it up.
Having seen nothing but the above image from the film – there's no poster, trailer, footage or anything yet – the jury is still out on Rise of the Apes. The cast – Franco, Frieda Pinto, John Lithgow, Brian Cox, Tom Felton as well as Andy Serkis playing the fully motion captured ape Caesar – is pretty stellar and though Wyatt only has one major film under his belt, this certain is a huge opportunity.
What are your thoughts on Rise of the Apes changing its release date for a second time? Does it worry you?