Page 2: Peter Jackson, Scream 4, Life Aquatic, Mac And Me, Planet Of The Apes, Harry Potter, Captain America, Hanna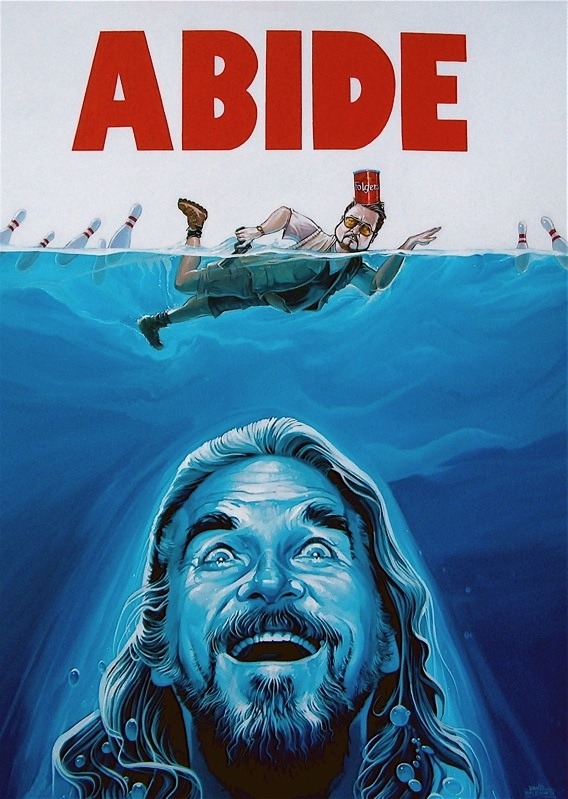 What is Page 2? Page 2 is a compilation of stories and news tidbits, which for whatever reason, didn't make the front page of /Film. After the jump we've included 46 different items, fun images, videos, casting tidbits, articles of interest and more. It's like a mystery grab bag of movie web related goodness. If you have any interesting items that we might've missed that you think should go in /Film's Page 2 – email us!
Dave MacDowell's Jaws/Big Lewbowski mash-up painting "Abide", is part of his solo show at Thinkspace Art Gallery in Culver City which opens on April 30th.
Film School Rejects takes an extensive look at Faith, Fundamantalism and The Little Green Man Called 'Paul'
Watch some behind the scenes b-roll footage from the making of Scream 4.
FSR discusses the pros and cons of a flexible movie ticket pricing system.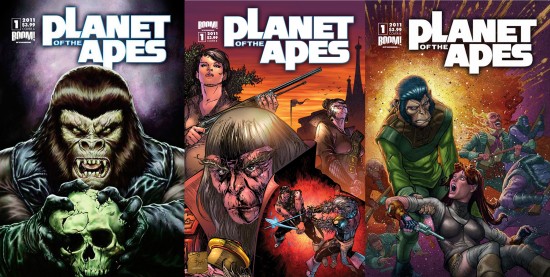 BOOM! Comics will launch a comic book series based on the Planet of the Apes franchise, written by award-winning sci-fi novelist Daryl Gregory (Dracula: The Company of Monsters, Pandemonium) and drawn by sensational artist Carlos Magno (Green Lantern Corps).
EGO lists The 5 Most Famous Irish Actors.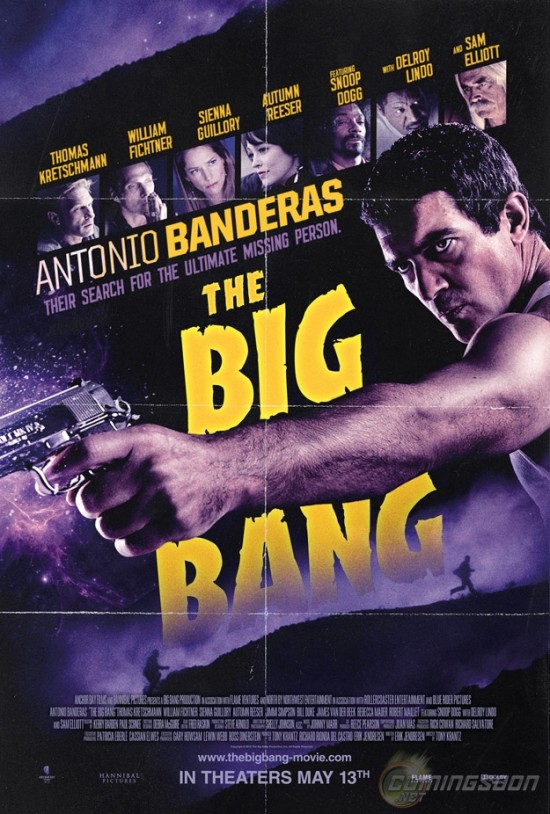 ComingSoon has premiered the movie poster for The Big Bang.
ShortLists lists 100 pieces of advice from movies.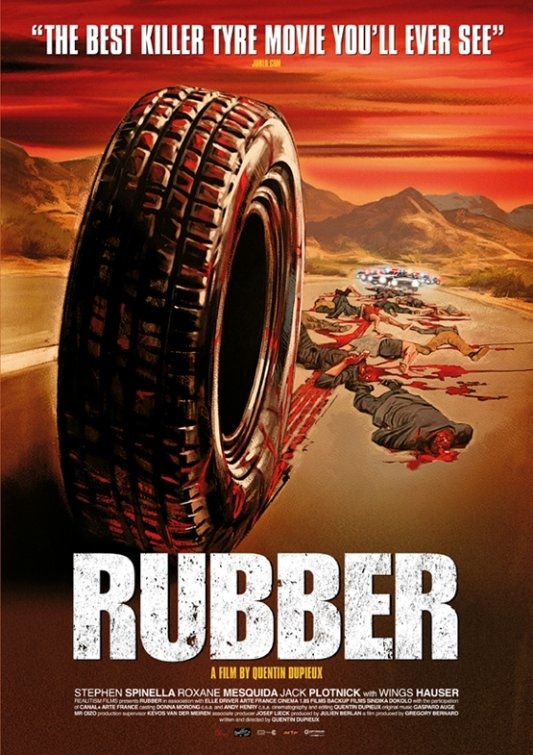 Check out the new poster for Rubber.
ROS has released a list of 45 Potential Titles Rumored for the 2011 Cannes Film Festival
Due to the amount of graphics and images included in Page 2, we have to split this post over a BUNCH pages. Click the link above to continue the second page of Page 2.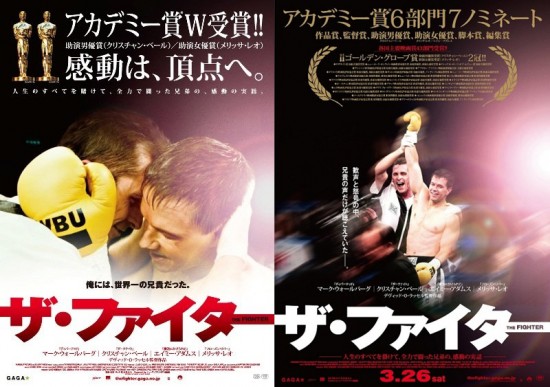 And lastly, here are a couple Japanese movie posters for The Fighter.
Miami New Times lists Five Classic Bromances in TV and Film.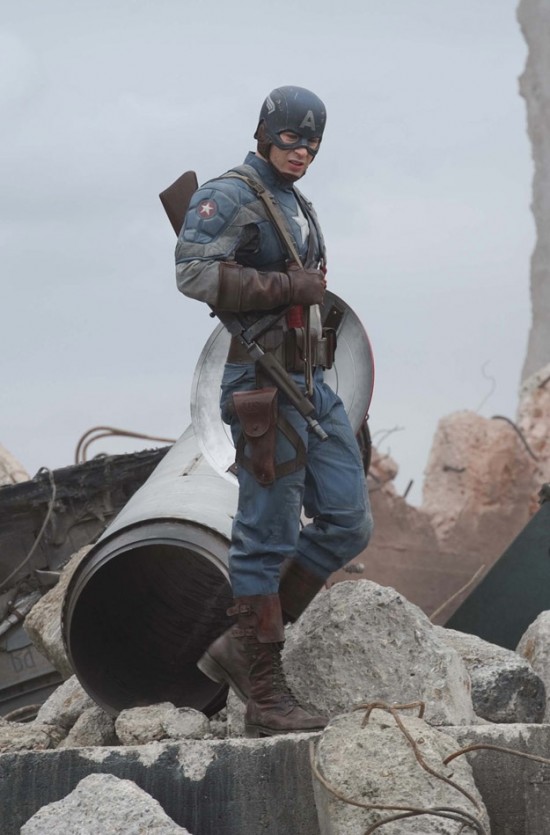 Marvel Entertainment has released a new photo of Captain America.
Koldcast lists 10 Love Lessons Gleaned from Fatal Attraction.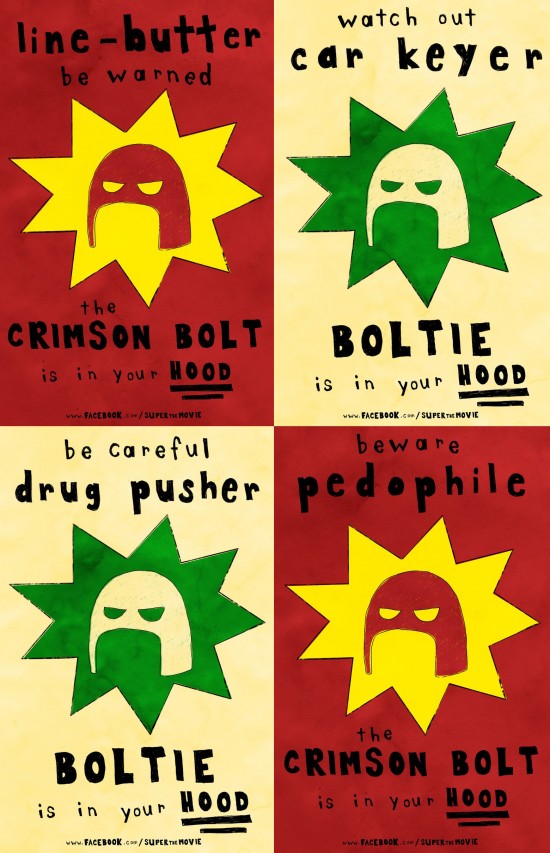 A set of four viral posters for James Gunn's superhero indie dramady Super has been released.
IGN lists the top 10 douchebags in TV history.
Watch a 60 second stop-motion animated version of Wes Anderson's The Life Aquatic With Steve Zissou.
ScreamTrilogy lists 12 Things To Learn From The Scream 4 TV Spot.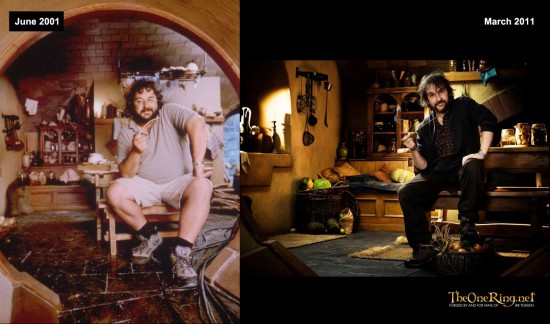 Peter Jackson has lost a lot of weight between the Lord of the Rings trilogy and the start of production on The Hobbit. Here is a before/after photo comparison.
Movieline lists 5 Goofy Early Works by Best Actress Oscar Winners
Due to the amount of graphics and images included in Page 2, we have to split this post over a BUNCH pages. Click the link above to continue the third page of Page 2.
Amy Ryan discusses her role as Jackie Flaherty in Tom McCarthy's Win Win.
EatSleepLiveFilm lists the top 10 worst movie poster designs.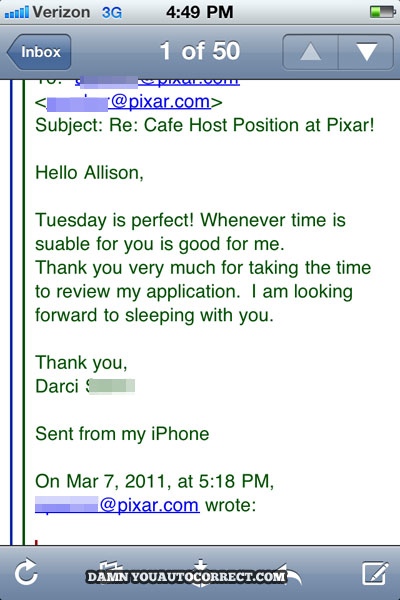 Damn you autocorrect — Pixar edition.
Clutter Magazine has an interview with one of our favorite artists, Tim Doyle, who has been responsible for a large part of the movie art we've posted over the years.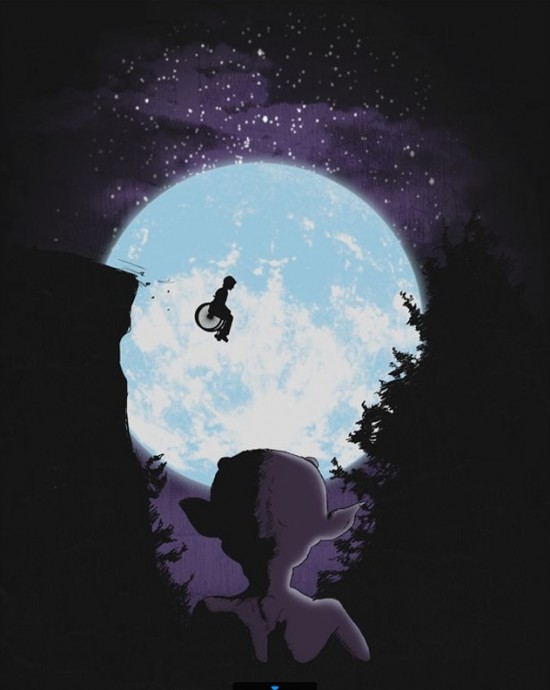 This Mac and Me/E.T. mash-up t-shirt design has been submitted to Threadless. Thanks to /Film reader Troy S for the tip.
Jamie Kennedy and Angela Sarafyan are set to star in Gor Kirakosian's romantic comedy Lost and Found in America, which is billing itself as "the first-ever all Armenian-financed major motion picture."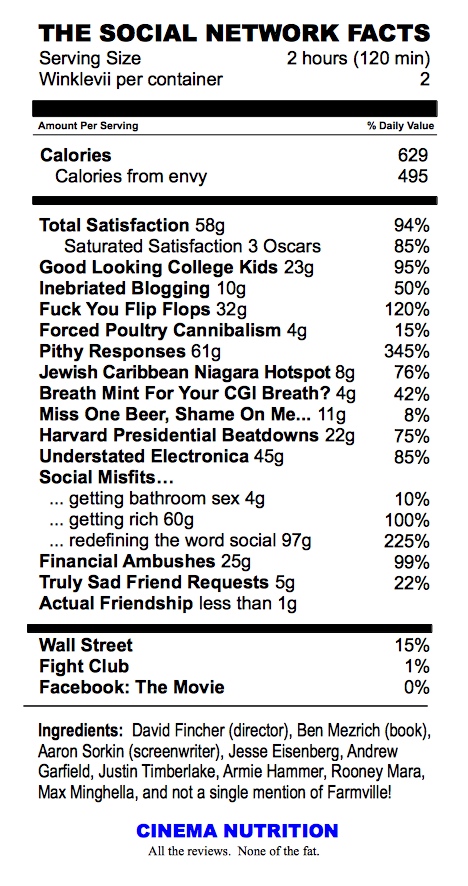 /Film reader Ryan Q sent me a website called Cinema Nutrition, a tumblr blog which posts nutritional labels for popular movies.
TNT has passed on two pilots: Mike Robe's Bird Dog, about a father-daughter cop team, and Allan Loeb's untitled project based on Marshall Karp's novel The Rabbit Factory.
Annyas takes a look at some of Saul Bass' movie poster designs and how they've been incorporated into the contemporary DVD releases.
Activision will announce details of a new Spider-Man video game at WonderCon on April 1-3.
Due to the amount of graphics and images included in Page 2, we have to split this post over a BUNCH pages. Click the link above to continue the fourth page of Page 2.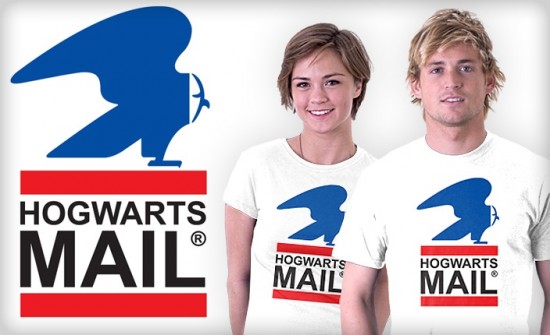 Today's t-shirt on TeeFury is a Harry Potter-inspired design called Hogwarts Mail. Available today only, and for only $10 plus shipping.
IFC has greenlit four new television series.
/Film reader Stephen P has submitted a video titled "Club Villain", which is "a music video where someone attends a club with all the evil villains from past movies."
Ian Fleming's Chitty Chitty Bang Bang is set to fly again with the publication of a new series of adventures by children's author Frank Cottrell Boyce.

Netflix went down yesterday, it wasn't just your crappy internet connection.
Speaking of Netflix, a new steaming deal means that Netflix subscribes won't be able to stream the latest episodes of Showtime's Californication and Nurse Jackie.
Watch Saorise Ronan and Olivia Williams in a first look clip from Hanna.
Neil LaBute has signed on to direct an adaptation of the Agatha Christie novel Crooked House.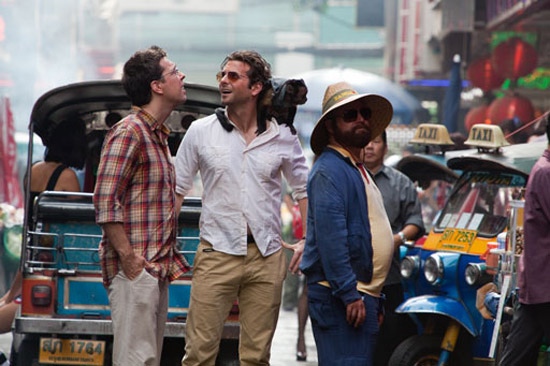 CineMarcado has posted a new photo from The Hangover 2.
Spider-Man: Turn Off the Dark actress T.V. Carpio has been injured.
Due to the amount of graphics and images included in Page 2, we have to split this post over a BUNCH pages. Click the link above to continue the fifth and final page of Page 2.
/Film reader Jeff Yorkes has a new CINEMASHUP, "Back to Indiana," which recuts Raiders of the Lost Ark to "Back to Indiana" by The Jackson 5.
Walt Disney rejected a proposed portrait of the almost unkillable Russian mystic Grigori Rasputin when he was building Disneyland's Haunted Mansion attraction, because he was afraid of lawsuits from Rasputin's relations.
[No photo]
Check out some set photos from the Cambridge Ontario location of Silent Hill: Revelation 3D.
DenofGeek lists 10 career-best performances in the movies of David Cronenberg.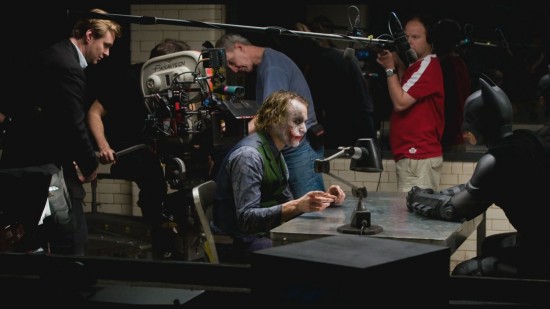 AICN shares this behind the scenes photo from The Dark Knight.
HopeLies takes an extensive look at the complete body of work inspired by Philip K. Dick (even featuring Confessions of a crap artist and Impostor).