Paramount Is No Longer Developing A Remake Of 'Dune'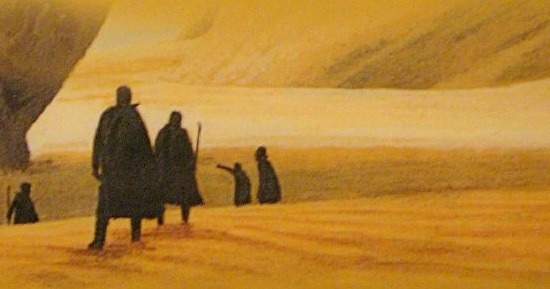 In the pantheon of Big Difficult Adaptations, Frank Herbert's novel Dune has stood tall for years. Efforts to make a film in the '70s stalled, and a film version nearly defeated David Lynch in the early '80s. (Some, including David Lynch, might say that it did defeat him.) The mini-series adaptation in 2000 can be considered good only by those who judge quality by how many details from the source are crammed onto the screen, and efforts to make a film version since then have resulted in many script drafts, but no actual film.
Paramount has held the rights to Dune for some time, with the project passing through the hands of multiple screenwriters and directors, but now the studio's option has lapsed. The rights have reverted to Richard P. Rubenstein, the liaison to the Frank Herbert estate and ABC.
Deadline quotes Mr. Rubenstein saying "Paramount's option has expired and we couldn't reach an agreement... I'm going to look at my options, and whether I wind up taking the script we developed in turnaround, or start over, I'm not sure yet."
One way or the other, we're likely to see a new film eventually, if not soon. The last time this subject came up, in November, the rights holders were emphatic in stating that they know they're holding the rights to a massive sci-fi property, and intent to exploit them. Paramount has spent a good deal of money on this project already, when scripts were written for Peter Berg and then Pierre Morel, but the studio is probably making the smart call here by bowing out rather than push a film into production that isn't ready.
Those who want to see the book treated well should be more worried about the next step, as Mr. Rubenstein has suggested that he's not willing to sign over rights only to wait another several years for a film to get made. If he makes a new option deal with someone else, it will probably come with a pretty strict timeline. But he may have the most recent script, by Chase Palmer and Pierre Morel, which is said to do a good job of condensing the story into something that would work as a feature. (Using that would also get some money back to Paramount.) He wants to sign those two back on, but first needs a new financial partner.