Cool Stuff: Max Dalton's 'Pulp Fiction' Action Figure Collection Poster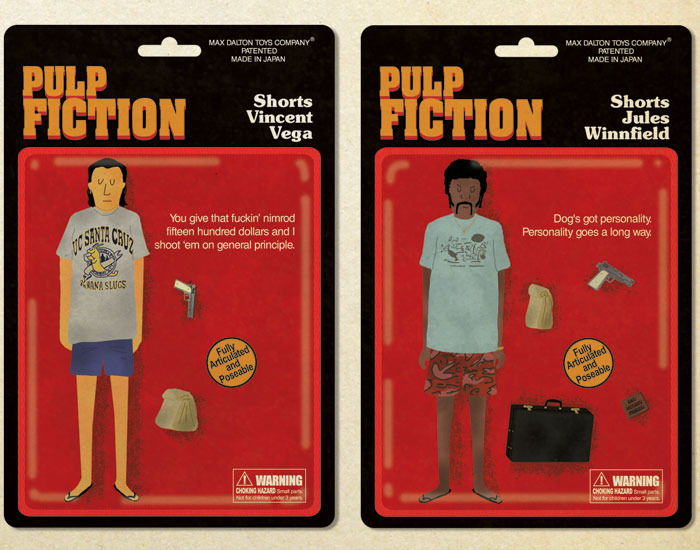 This April in New York, Spoke Art is presenting a three day art show called Quentin vs. Coens, featuring art based on the films of The Coen Brothers and Quentin Tarantino. We've already showed you a sampling of work from the show, which runs from April 7-9 at the Bold Hype Gallery in New York, and Spoke Art continues to reveal new pieces on a daily basis both on their Facebook and Tumblr pages.
Soon, we'll have your exclusive first look at an AMAZING set of seven prints by Tim Doyle dramatizing each of Quentin Tarantino's films but, first, you've got to check out this jaw-dropping poster by Max Dalton. It's called Pulp Fiction Action Figure Collection and, after the jump, you'll see the full image as well as detailed shots like the one above.
Dalton (who also did the Ferris Bueller Board Game we recently featured) posted these images to his blog. Remember, the first five images are just enlargements of smaller sections, the poster itself is the final image.
Here's all the details on the poster:
Max Dalton – "Pulp Fiction Action Figure Collection"
fine art giclee, 18" x 24" Limited Edition
$50
available at the Quentin vs. Coen art show April 7th, 8th and 9th at Bold Hype Gallery in New York, and online at Spoke Art in the days following.
Quentin vs. Coens will be open from April 7-9 at the Bold Hype Gallery, 547 W 27th St, 5th floor, NY, NY. The show opens at 6 p.m. for an opening reception on April 7. The gallery is usually open from noon-5 Tuesday-Saturday, but those hours might be extended for this show. Visit boldhype.net or call 212-868-2322 for more info.
For more information on the show, visit Spoke Art's homepage, their Facebook page or the show's event page. And don't forget to check back soon for more /Film exclusive images