Diane Kruger, Eva Mendes And Others Reading For 'Total Recall' Remake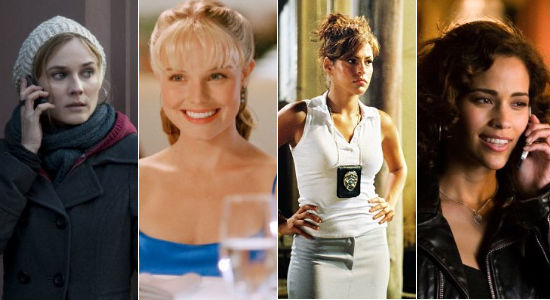 Behind every man on a mental mission to Mars is a good woman. Or, in the case of Douglas Quaid in Total Recall, a good and a bad woman. As director Len Wiseman preps his Summer 2012 remake of the 1990 Arnold Schwarzenegger/Paul Verhoeven film set to star Colin Farrell in the lead, the next big step is bringing those women to life. The two man roles are Quaid's wife Lori, who was originally played by Sharon Stone, and his female counterpart on Mars, Melinda, originally played by Rachel Ticotin. According to Deadline, several major actresses are currently reading for both roles including Kate Bosworth and Diane Kruger for Lori and Eva Mendes, Paula Patton, Jessica Biel and Eva Green for Melinda. Read more after the break.
In Deadline's story, they say that Bosworth and Kruger are reading for the role this week and Mendes could be up for both roles. Also, this list is far from inclusive.
If they stick to the feel of the original film, the two females cast are going to have to be simultaneously beautiful but also intimidating and on par physically with Douglas Quaid. Which, of course, is much easier now that Farrell is playing that role instead of Schwarzenegger. And while any of these women would be solid choices, I believe that Kruger and Mendes would be the best out of that list. Each is obviously gorgeous and have exhibited the ability to hold their own against strong male leads, whether it be in Inglourious Basterds or Once Upon a Time in Mexico. Plus, they look incredibly different, which is also important.
Do you think any of these actresses would be better than the others and do you think it's important to have a recognizable face in either role? When the original came out, neither Stone nor Ticotin had done any particularly huge (Stone had a few films, but Total Recall was arguably the breakout) so maybe there's something to be said for casting an unknown.