First Look: Roman Polanski's 'Carnage'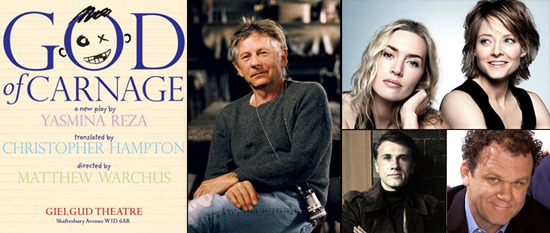 Roman Polanski has just finished shooting Carnage, aka his adaptation of the play God of Carnage, in which Jodie Foster, Kate Winslet, John C. Reilly and Christoph Waltz play two couples who end up tearing into each other after an altercation between their children at a park.
About a week ago a bunch of photos showed up from the wrap party, where the four leads and their director were photographed together. Now the first still from the film is available, after the break.
Here's the recap of the play by Yasmina Reza:
The play is about two pairs of parents, one of whose child has hurt the other at a public park, who meet to discuss the matter in a civilized manner. However, as the evening goes on, the parents become increasingly childish, resulting in the evening devolving into chaos.
And yes, the film was going by the full name God of Carnage, but Empire reports the shortening of the title as it presents the first still photo.
[No photo]
Jodie Foster described the film to Empire,
It all happens in real-time, so it's about an hour and 45 minutes of negotiation between two sets of parents and how it all falls apart. Kind of like Who's Afraid Of Virginia Woolf?, but a little funnier. There's a lot of wit.
The film doesn't have a distributor at this point, but with that cast and the highly praised source material, I can't imagine it'll take long to be set up with a high-profile label. Carnage looks like a lock for any of the Cannes, Toronto or Venice fests, and we'll definitely he hearing about it more over the next few months.