Arnold Schwarzenegger Is Working On A TV Series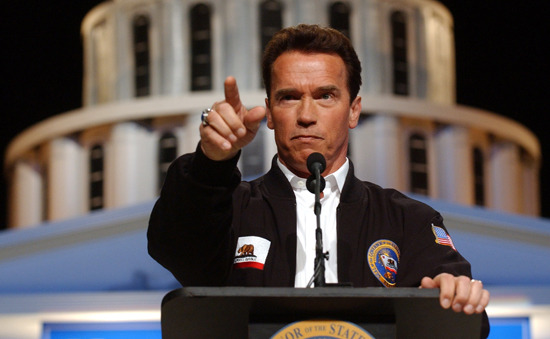 Briefly: We've heard that Arnold Schwarzenegger, fresh out of office as governor of California and therefore able to go back to work as an actor full-time, is considering many different feature films. But before any of those come to fruition it looks like he'll work on a television show.
Today plans were revealed to reveal plans for a new TV series in which the former Governator is taking part. We don't know what the show is — THR reports only that it is "an international TV series" — nor do we know how Mr. Schwarzenegger is involved. Is he producing, acting, hosting? No idea.
The show will be revealed on April 4 during a press conference at the MIPTV sales market that takes place in Cannes from April 4 to April 8.  I'm hoping for a Running Man reality show offshoot, but I know this will get a lot of people hoping for that True Lies TV sequel that has been talked up. We'll report on the reality of the show, whatever it might be, on April 4.