J.J. Abrams' 'Star Trek' Universe Continues In Novel Form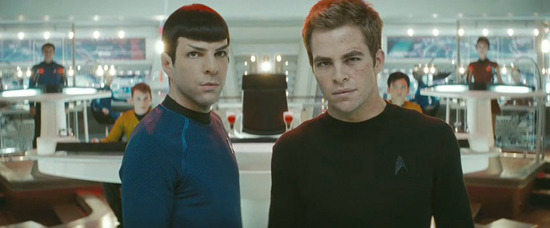 What is a Trekker to do in the Spring of 2011? While the gears seem to be in motion for a sequel to the 2009 J.J. Abrams' Star Trek – a script is nearing completion, actors are clearing their schedules, there's a release date and possible production offices – we're still waiting on a 100% official, lock it down announcement. In the mean time, you can line your walls with Mondo Star Trek prints or, now, read a bunch of novels set in that universe. Simon and Schuster have been releasing a series of young adult novels called Star Trek: Starfleet Academy, featuring the young versions of the characters from the film, getting into adventures at Starfleet.
See the book covers and read descriptions of the plots after the jump.
Thanks to Comic Book Movie for finding these images and descriptions. Here are the book covers.
[Images removed at the request of Paramount.]
The first two books in the series are in stores now while the dates for the next three have already been announced.
STARFLEET ACADEMY #1
Title: The Delta Anomaly
Author: Rick Barba
Publication Date: November 2, 2010
Plot: After a rough week at Starfleet Academy, James T. Kirk and his friends blow off steam at San Francisco's hottest new club. Their good times come to a screeching halt, however, when one of the cadets is attacked by someones who seemingly appears out of thin air.
Bones and his medical team save the cadet's life, but they uncover the horrifying consequences of the attack. Meanwhile, Starfleet's investigation reveals the assailant is actually a brutal serial killer from the past–a mysterious entity known only as the Doctor. Who is the Doctor, and why has he returned after disappearing more than twenty years ago?
At the urging of Commander Spock, Cadet Uhura is called to decipher a message from the Doctor. Spock has no idea that by enlisting Uhura's help, he has placed her firmly in the Doctor's sights.
Before long Kirk, Uhura and Bones are caught up in the Doctor's dangerous web as they race against time to stop the killer before he strikes again.
STARFLEET ACADEMY #2
Title: The Edge
Author: Rudy Josephs
Publication Date: December 28, 2010
Plot: A new beginning – but the same old problems.
Jim Kirk arrives at Starfleet Academy ready to take on whatever challenges arise. Most new beginnings mean you get to start with a clean slate, but Kirk quickly discovers that he is already infamous among his classmates. Thanks to his bravado and boasting that he'll finish the four-year program in three, they've already made up their minds about kind of rival he is... and how they will beat him.
The Academy's program is extremely rigorous and uncompromising. The students are the best and the brightest, and the school demands total commitment from them – physically and mentally. Kirk is ready for it all, but he didn't expect that some cadets will do anything to ensure they succeed at the Academy, no matter the cost.
He soon finds that his best friend, McCoy, is one of the main suspects in an Academy misconduct investigation for crimes that could cost the lives of his classmates. Kirk is determined to clear McCoy's name and unmask the dark side of Academy life – before it's too late.
STARFLEET ACADEMY #3
Title: Gemini Agent
Author: Rick Barba
Publication Date: June 28, 2011
Plot: TBA
STARFLEET ACADEMY #4
Title: The Assassination Game
Author: Alan Gratz
Publication Date: September 13, 2011
Plot: TBA
STARFLEET ACADEMY #5
Title: TBA
Author: TBA
Publication Date: January 3, 2012
Plot: TBA
In my estimation, there are three things that need to be noted about these books. First, these are young adult novels (ages 12 and over) and not aimed at adults so don't expect anything super interesting or close to canon. Second, they seem to be more specifically Star Trek prequels as opposed to sequels. And third, don't the girls on the second and third books look like Evangeline Lilly and Lea Michele respectively? Possible casting rumors?
Either way, it's cool that this world is still living and breathing as we're all very excited for the sequel.