Concept Art From Disney Animation's 'Tick Tock Tale' And Pixar's Abandoned 'Newt'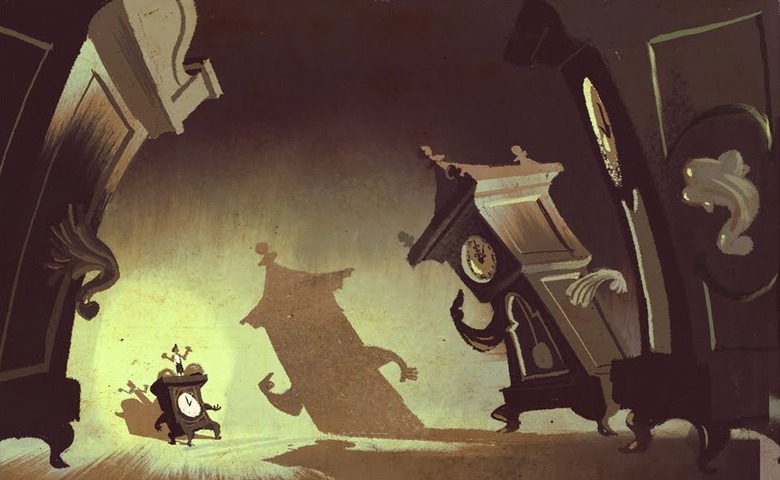 We've got lots of beautiful concept art for you on this Monday evening from two separate projects: Walt Disney Animation's upcoming short Tick Tock Tale, and Pixar's canceled feature Newt. I've been looking forward to Tick Tock Tale since we got our first look at some clips and images, so I'm finding the concept art interesting to look at. But the Newt images are just making me sad all over again that we'll never get to see the finished product. Prepare to get happy, then sad, after the jump.
A funny little clock (something out of Geppetto's workshop, really) is picked on by the more refined time keepers in a London store, only to find a chance at redemption when a thief breaks in one night.
The concept art for Tick Tock Tale has a grandly old-fashioned feel to it, and the clock characters remind me of the animated household items from Beauty and the Beast. Here's hoping it gets a non-festival release date soon.
As for Newt, it was originally scheduled for a summer 2011 release, but it was announced last May that the project had been canceled — probably due to its similarities to Fox's Rio, which would've hit theaters first. Sad news, and it was made worse by the Newt artwork that Pixar posted last fall, which looked stunning even by Pixar's already lofty standards. The new concept art sheds even more light on what we could've seen.
Newt would have been the feature film debut of Academy Award-winning sound designer Gary Rydstrom, who previously directed Pixar's short Lifted and has since gone on to direct the Toy Story short Hawaiian Vacation. Here's the Rio-esque story:
What happens when the last remaining male and female blue-footed newts on the planet are forced together by science to save the species, and they can't stand each other? Newt and Brooke embark on a perilous, unpredictable adventure and discover that finding a mate never goes as planned, even when you only have one choice. Love, it turns out, is not a science.
[images via Animatie for Tick Tock Tale and Bleeding Cool for Newt]